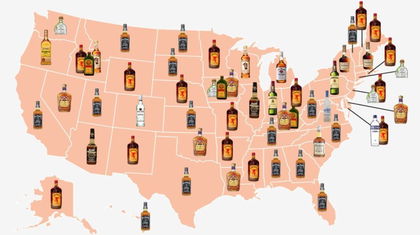 10 American Booze Stats You Need to Know!
For those who want to better understand the relationship between the U.S. and alcohol, here are 10 super-useful and generally enlightening statistics that will help you get a handle on how all types of Americans get their tipsy on. 
1. What's America's favorite type of alcohol? 
Beer Reclaims Wide Lead As America's Favorite Alcoholic Beverage [Infographic] https://t.co/pQMjImGvfe pic.twitter.com/OmxqdmEWVW

— Craft Beer Time (@CraftBeerTime) August 18, 2016
2. What's the most popular liquor in each state? 
Infographic: most popular liquor by state http://t.co/kraX8hr9Rg@TEBaranowskiJr maybe we should call you #america pic.twitter.com/JvtcOdIgic

— Elliott Brown (@TheElliottBrown) August 6, 2015
3. How about which wines are most popular in each state? 
Nice infographic showing what wine is the most drunk per state in America #wine #american #usa #alcohol pic.twitter.com/6Vys9Q9mOy

— S&S Wines (@saswines) September 7, 2016
4. Which states buy the most wine? 
If you live in middle America, you probably prefer white wine http://t.co/I6D4zbXPeE @BusinessInsider pic.twitter.com/PjbjvpepAv

— thinktapp (@thinktapp) May 4, 2015
5. How about some random booze stats for each state? 
Infographic: How America gets drunk, state by state: http://t.co/5uaKIFt7ot pic.twitter.com/NtRptiYxMQ

— FC Entertainment (@FastCoEntertain) December 4, 2013
6. What are the best-selling whiskies in the U.S.? 
Wine infographic: America has a thirst for Irish whiskey. Here are the ten best-selling Irish whiskies in America! pic.twitter.com/NCjqYM9hYI

— Craft WineMaking (@craft_wine) April 18, 2016
7. Which champagne brands do rich Americans drink? 
Wine infographic: What Champagne brands are America's wealthiest households drinking? See Infographic below! pic.twitter.com/BZWMWIqcu5

— Wine Butler (@winebutler) April 19, 2016
8. Which states have the most craft breweries? 
Since it's almost the #weekend and #ATEQ is a part of the #qualitycontrol #manufacturing industry, we had to share MEP's infographic about the #craftbeer in #America Think of all the #packaging and #industrial #beer #equipment that needs #leaktesting! •https://t.co/jEyUND3MdT pic.twitter.com/WJVPNIlgOn

— ATEQ Leak Test (@ATEQLeakTest) March 9, 2018
9. How much hard liquor does America import and export? 
America's top liquor import: Whisky (Irish & Scotch). See our infographic on alcohol trade https://t.co/qvyG5KIkei pic.twitter.com/CKOQERuM50

— Descartes Datamyne (@datamyne) March 13, 2016
10. Most importantly: Where can I drink on the street? 
A map of where you can publicly drink alcohol in America. pic.twitter.com/wOz9kHB8e8

— UberFacts (@UberFacts) December 19, 2013
Did these American liquor statistics red, white, and blow your mind? Which Americans do you think would enjoy the cocktails below the most? Let us know, people! 
https://www.youtube.com/embed/sPeG_Y2xFvQ
See recipe. 
https://www.youtube.com/embed/puFqqWb6Lc0
See recipe. 
Featured image: BARTENDr