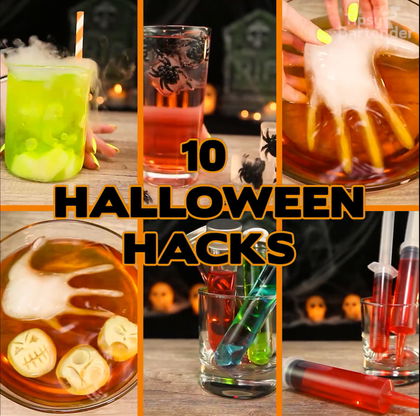 10 Viral Halloween Recipes You Don't Want To Miss
We're going viral this Halloween. In case you missed it, here are 10 of our most-watched Halloween party drinks, tips and tricks this year. With millions of views, these Halloween recipes, garnishes and other tasty treats are taking the world by storm.
Smokey Halloween Rum Punch in a Pumpkin
A spooky booze loaded party punch! We filled a pumpkin with white rum and apple cider. With over 4 million views, this Halloween party punch is the most "Halloween" thing you can drink.
Halloween Hot Dogs That Look Like Fingers
The scariest hotdogs ever! Thousands of laugh-reacts on this one, but we're serious. We can't let you Halloween party on an empty stomach. It may come in handy (get it?).
The Screamsicle is a Scary Halloween Twist on a Creamsicle
This ice cream truck runs dusk to dawn. Here is a Halloween drink recipe that is everything you love about creamsicles in a glass. How to make it...
10 Great Halloween Hacks
Number 4 scared the crap out of me! Presentation is half the battle making cocktails. Over 19K of you enjoyed our crafty Halloween decoration ideas for cocktails, punches and shots. Pro Tip: The art of garnishing can be elusive to some. Or it might seem insignificant. But choosing the right look and taste can mean everything. Learn how to easily make your creations look amazing in Cocktails 101.
4 Perfect Shots for Halloween Shots
The shots will scare the hell out of your friends! You know it's Halloween when a floating eyeball gets shared over 6,000 times. Here are the gory details behind these fun Halloween shots.
A Giant Pumpkin turned into the Baddest Beer Cooler Ever
We got 27K likes on our giant pumpkin! It smokes and really does keep your beer ice cold! Must be a cool pumpkin. If you don't want to be sharing in a communal punch this Halloween, this one is perfect to socially distance your drinks and cool your beers.
A Shot made to look like a Zombie's Rotting Brain
A spooky take on the famous Alien Brain Hemorrhage! People say they would never eat brains, yet they watched this video 24,000 times. Something doesn't add up. Maybe the cocktail is delicious… Pro Tip: Layering is the KEY to making this shot look and taste perfect! Learn the simple secret of how to layer shots and cocktails in Cocktails 101.
The Drunken Cookie Monster Cocktail
It looks exactly like Cookie Monster and it's boozy as hell! Remember when we went a little crazy with cookies and ice cream? We didn't regret it. Will probably slap some eyeballs on future milkshakes…
The Ghostbuster Bomb Shot
Who you gonna call? However you feel about the Ghostbusters movies, you can't hate this inspired mix of coffee, Coke and Crown Royal. The liquor floats on top like a ghost!
Halloween Pumpkin Keg
This pumpkin is like a real beer keg! Pumpkin carving isn't all fun and games. It's also for serious matters, like serving up Halloween party drinks. Use cider or your punch of choice!
The Secret to Hundreds of Viral Cocktail Recipes
We love to
impress our friends
anytime we learn a new drink recipe. Knowing these few, basic tricks could add
several cocktails at once
to your repertoire. Learn the secret to becoming the life of the party
right here
.
Enter Cocktails 101