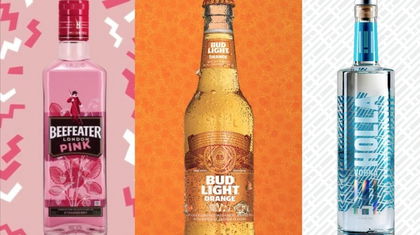 11 Millennial Alcoholic Drinks that Are the Future of Booze
According to just about any statistic you want to look at, you'll see that millennials — people born between 1981 and 1996 — are changing up the booze game big time. What that'll actually look like in stores (and on Instagram), is glimpsed with the 11 millennial-focused booze products in the list below, which contains a lot of rosé and a buttload of "millennial pink" coloring.  
1. Bud Light's New Bud Light Orange
Bud Light recently announced Bud Light Orange as well as a new Bud Light Lime, both aimed at millennials — Anheuseur-Busch (Bud's parent company) noted in the beer's press release that "Our millennial consumers are eager to try new, flavored options in the light lager category," and that citrus flavoring is apparently super popular. 
Bud Light Lime and Bud Light Orange are brewed with real citrus peels. Please refrain from licking your screen. pic.twitter.com/y7BctVWYS2

— Bud Light (@budlight) April 9, 2018
2. Coronoa's New Refresca Line of Spiked Seltzers
Corona's launching a new "Refresca" line of spiked seltzer drinks that come in flavors like guava lime and passionfruit lime, and are, according to AdAge, "marketed as a 'premium spiked refresher'" targeting women from 25 through 29 years-old."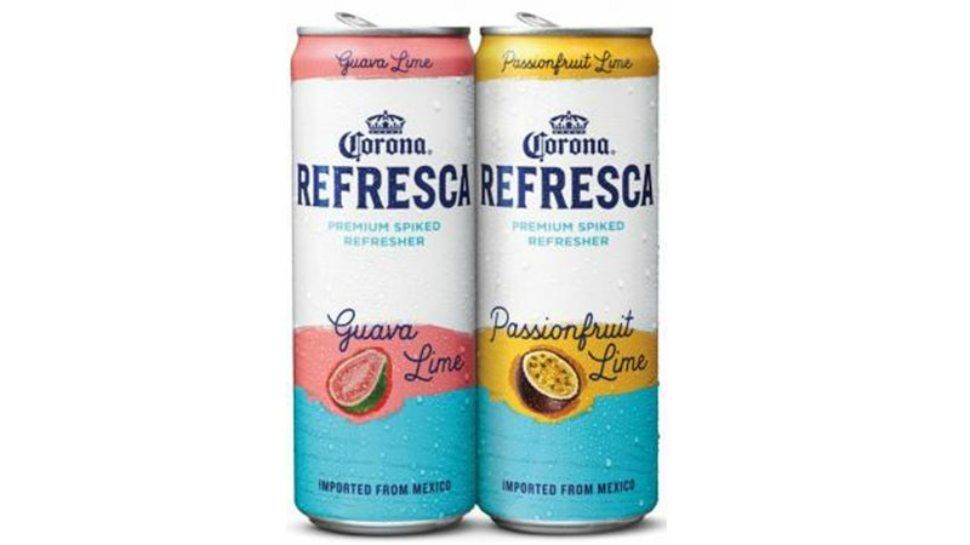 3. Holla Vodka
Holla Vodka is a new $20 vodka created by Penn State alumni, Patrick Shorb and Matt Glaser, who graduated together in 2008. Holla is aimed at the duo's age group, and Shorb says that vodka is actually way easier to make than big producers would have you think. He told Onward State that "If there's one thing to remember about millennials, it's that we do our research."
HOLLA's has a naughty side, it's spicy and sweet. #HollaVodka #HollaSweetfire #Vodka #new pic.twitter.com/oleXsufMv4

— Holla Spirits, LLC (@HollaSpirits) April 15, 2018
4. The (fruit flavored) 1970 Vodka Cocktail 
Apparently nothing resonates with people born in the '80s more than... the 1970s? The 1970 Vodka Cocktail drink is vodka with an additional "19 exotic fruits, spices and botanicals," and its maker noted in a press release for the vodka that "The 1970 was created to appeal to millennials, who have a more sophisticated and global palate than previous generations." Also, the 70 comes from the proof, if that matters to you.   
Throw some Coca-Cola and fresh lime juice in that cup and keep it moving. pic.twitter.com/de7KcbNStY

— The 1970 Vodka (@The1970Vodka) March 30, 2018
5. Virtue Cider's Canned Rosé Cider (P)
Rosé and cider combined in a pink can? That's Catnip for millennials, which is why Virtue Cider is producing that exact product. The rosé cider contains "a bright and balanced blend of botanicals," and at 6.7% ABV, it's gentle enough for snowflake millennial bellies. 
.@bustle is right; our Rosé is here just in time for summer! https://t.co/yWdfM6Mn60 #rosé pic.twitter.com/EhZZjyf3TW

— Virtue Cider (@VirtueCider) March 29, 2018
6. Nauti's Rosé Seltzer (I)
Nauti's Rosé Seltzer, like Virtue Cider's canned rosé cider, is all about giving the millennials something pink, bubbly, and tasting of rosé flavors. The company behind Nauti's says that "This is a low calorie, low carb, ready to drink, new alternative in the fast growing hard soda category."
@NautiSeltzer Rosé is a delightful interpretation of a sparkling rosé wine, with wonderful hints of mandarin orange, peach, raspberries and more. Find it here: https://t.co/6hmDKtDD8N pic.twitter.com/ZSwIk1sSS4

— McLaughlin & Moran (@mclaughlinmoran) April 5, 2018
7. Strongbow's Rosé Hard Cider (N)
Errr, yeah, a lot of companies are getting on the rosé cider train. It's hard to say what difference there is between Strongbow's and Virtue Cider's, except that Strongbow's sometimes comes in a bottle. We'll have to taste both of them to let you know which one should be crowned go-to rosé cider champ.  
Strongbow Rosé Apple Cider! 🍎@strongbowuk #strongbow #hardciders #cider #rose #rosecider pic.twitter.com/1d1MdZXm3T

— Well This Is New (@All_Things_New_) March 17, 2018
8. Beefeater's New London Pink gin (K)
If you're sick of pink booze on this list, too bad, 'cause Beefeater has also launched its own line of millennial-pink London Pink Gin, which one of the company's managing director's says is targeted at "young millennials aged 20-27." (Don't freak out about the age 20; Europeans are weird —and amazing — like that.) 
We've got the perfect after work treat for you! Try our new Beefeater Pink G&T! Mix it up with some raspberries and mint! #dialarch #woolwich #royalarsenal #se18 #selondon #london #visitlondon #timeoutlondon #g&t #beefeater #pink #yummy pic.twitter.com/zN6Cx65kyj

— Dial Arch (@DialArch) March 20, 2018
9. Francis Ford Coppola's Canned Diamond Wine Collection
Remember the dude who made The Godfather? Well his winery is also getting in on the millennial action with its "Diamond Collection" made up of canned chardonnay, pinot grigio, and sauvignon blanc. Apparently millennials like wine in cans for some reason.... (It's cheaper.) 
Francis Ford Coppola Winery Launches Diamond Collection Wines Into the Canned Category https://t.co/Q0NVL951Zf pic.twitter.com/wGTOeHj33v

— Aspire Luxury (@luxuryaspire) July 26, 2017
10. MANCAN wine
MANCAN wine — yes, it's capped — is so freakin' millennial that the company doesn't even bother with varieties or vintages; it's just wine in a can. And really, if you're buying "MANCAN wine," you probably don't care about that stuff anyway. 
#SundayFunday has never looked this good! 💕💯👌If you haven't crushed a Rosé yet, you are missing out! Let us formally introduce you to your new go-to! https://t.co/6ZWZiPS4UK #prettyinpink #roséallday #pinkwine #wineinacan #mancanrosé #mancanwine #mancan pic.twitter.com/Q0by0gP6x4

— MANCAN Wine (@MANCANwine) March 11, 2018
11. Kikori Japanese Whiskey
Finally we have some additional millennial booze-love from Japan, with Kikori's rice-based whiskey. Bloomberg put the whiskey in its article on whiskeys made for millennials, noting that it's lighter and more mellow than other whiskeys. It's a whiskey for mellow-ennials. 
Refresh, reset, repeat. #FindYourBalance pic.twitter.com/YM5RndnJIa

— Kikori Whiskey (@KikoriWhiskey) April 14, 2018
Do you think the booze industry is headed in the right direction with these millennial drinks? Are you sick of seeing the color pink, or could you still be in the mood for one of the pink cocktails below? Let us know in the comments! 
https://www.youtube.com/embed/RmQ82PNLuhI
See recipe. 
https://www.youtube.com/embed/gHFR3z8M3wU
See recipe. 
Images: Bud Light, Beefeater, Holla 
GIFS: Giphy