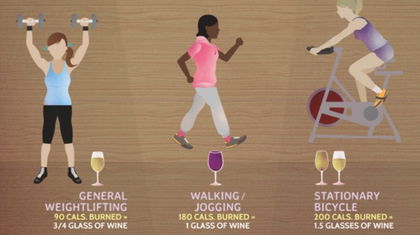 13 Charts Showing the Calories in Booze
Wondering how many calories are in your favorite mixed drink, beer, or glass of wine? Check out the 13 infographics below to find out how many calories you're consuming when you drink, and what you need to do exercise-wise to burn them off!
1. A basic breakdown of calorie count in basic drinks. (Still good for people who are not basic....) 
Make a note before you go out tonight! A few of these drinks, have 2-3 and you're drinking over a thousand calories 😭 pic.twitter.com/eXs1lLq60o

— Sharon - The Nutritionist,dipN, SACdip,FNTP (@nutrition_24_7) April 7, 2018
2. A broader look at how many calories are in liquor, liqueur, wine, beer, and a handful of cocktails. 
"@Cosmopolitan: http://t.co/LfQNUvbWxM pic.twitter.com/Mc6E3hZksp" I wouldn't have guessed champagne has less calories than red wine.

— Ashley Izbicki (@AshleyIzbicki) March 25, 2015
3. And how many calories are in some of the most popular spirits, including tequila, whiskey, vodka, gin, and rum. 
Here's how many calories there are in a shot of your favorite liquor https://t.co/9MjVWYkIm5 pic.twitter.com/VtbYryVpx9

— INSIDER (@thisisinsider) May 3, 2017
4. For the keto freaks, how many carbs are in different types of alcohol. 
Dope #infographic on #carbs in #booze for all #winelovers out there celebrating #WineWedenesday via @WineFolly #WW pic.twitter.com/IdsEfQ6nNB

— DLG Media (@DLGMediaNYC) October 7, 2015
5. For the beer lovers, how many calories are in a handful of the most popular beers. 
Beer lovers: There's a surprising range in calories in different types of beer https://t.co/6cWXUdz9pR pic.twitter.com/nPtqzQfeDm

— Julia Belluz (@juliaoftoronto) July 25, 2016
6. For the wine lovers, how much sugar is in various types of wine. 
How much sugar is in your wine? Sugar in Wine Chart (Calories and Carbs) | Wine Folly https://t.co/LtJUClWIzj #wine pic.twitter.com/DTS5JhlKXq

— ThisMagnificentLife (@ThisMagLife) March 8, 2016
7. The calorie breakdown for chain restaurant drinks.  
A single restaurant mixed drink can contain half a day's worth of calories. https://t.co/Y7SbXROflf pic.twitter.com/Gh6RvKiJwf

— Vox (@voxdotcom) July 31, 2016
8. Calories and carbs contrasted in beer versus wine. 
Which is better: wine or beer? If you're a calorie counter, you might want to stick to wine. Learn more:https://t.co/nX6gwMcPo6#Wine #Beer #Calories pic.twitter.com/8HKqSJLiPN

— BarBack (@barbackllc) March 12, 2018
9. A look at alcohol content per calorie in various types of booze. 
Actually champagne has the highest alcohol content per caloriehttps://t.co/EeloC01pfx pic.twitter.com/34jahgLc2E

— Tiny Fruit Fiasco (@KeyyOtter) March 22, 2018
10. If your booze calories were translated into equivalent snacks. 
How alcohol contributes to weight gain (infographic) https://t.co/kxZro8JFeb pic.twitter.com/no0zhZOO6M

— TotalCare Wellness (@WellnessESI) December 14, 2015
11. How to drink alcohol if you're trying to lose weight. 
Here's an #infographic that will be your tell-it-all alcohol guide in diets. #SamreedhiGoel #Sizewise pic.twitter.com/HaMBgUcqve

— Samreedhi Goel (@samreedhigoel) June 21, 2016
12. How much exercise you need to do to burn off wine calories. 
It's #Friday Nearly #wineoclock Check this #infographic on wine calories through exercise discovered @anitas_varga pic.twitter.com/eGRTakhoas

— EA Clinic (@eacliniclondon) April 8, 2016
13. How much exercise you need to do to burn off other kinds of booze. 
It's OK. It's the weekend. Enjoy yourselves. But just remember - if you want to take fitness more seriously, there's a little payback required! #Boxercise #HIIT #Circuits #Bodypump #LegsBumsTums #Cardio #WeightLoss #Toning #Workout #Exercise #NWalesTweets #NewMe #Booze #Alcohol pic.twitter.com/qmDojHhwFd

— SO Fitness (@SOFitness8) April 7, 2018
Did any of these boozy beverage calorie counts blow your mind and force you to rethink your favorite drink? And if you had to guess, how many calories would you say are in the cocktails below? Let us know your guesses!
https://www.youtube.com/embed/WYwJc5y0Vzo
See recipe. 
https://www.youtube.com/embed/4ulzfsAMGeY
See recipe. 
Featured image: Fix.com
GIFS: Giphy