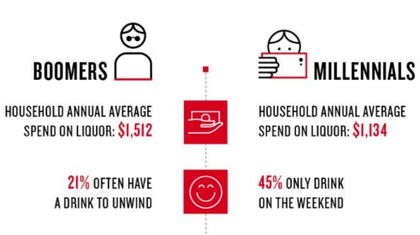 13 Millennial Drinking Trends Changing the World of Booze
Buckle up people, 'cause it's another post about millennials (and you have to buckle up 'cause you know how millennials love their safety). Below are 13 infographics outlining the way millennials — folks born between 1981 and 1996 — consume their booze, as well as how their drinking habits contrast with those of other generations. 
1. Millennials spend less on booze than baby boomers, but are more willing to try new, exciting alcohol products.
Find out the different reasons for drinking between Kiwi Boomers and Millennials!https://t.co/Z7rFCXKDRI pic.twitter.com/A0BOyUWN6C

— Nielsen (@Nielsen) November 2, 2017
2. Millennials really want to discover new liquor brands they can share with their friends. 
liquor, branding, Millennials, oh-my! what influences #Millennials and their choice of spirits: *now I'm thirsty..* @MWW_PR pic.twitter.com/nBoGUqC1Rr

— Avalon Thomas-Roebal (@AvalonTRPR) November 8, 2016
3. Seriously, millennials are way more exploratory with their booze consumption relative to baby boomers. 
ALCOHOLIC BEVERAGE OPPORTUNITY: UNDERSTANDING BOOMER AND MILLENNIAL SHOPPING BEHAVIOR @Nielsen #Alcohol #Wine #CPG https://t.co/OZFIHhOC5g pic.twitter.com/RMg2hEmtVJ

— Observa (@observabiz) May 10, 2017
4.Millennials are also shifting popular drinking trends toward liquor and wine over beer. 
Shifting tastes: Americans are drinking less beer and more liquor as Millennials turn to whiskey and other spirits. https://t.co/I2f1ITb54A pic.twitter.com/Jl7nzU6LIT

— USA TODAY Money (@USATODAYmoney) July 11, 2017
5. But when millennials do drink beer, they really like craft beer.
Graphic Info on Craft Beer #craftbeer #beer #brewery #alcohol #targetmarket #Millennials #statebeer pic.twitter.com/lgUfDlqswl

— Dejion Designs (@DejionDesigns) February 27, 2017
6. And also "ice" beer, which is beer that has a higher-than-normal ABV. 
Most shocking #beer data from @Adweek survey :10% of millennials favor "Ice" beer pic.twitter.com/f6zxlpHmTL

— Mark Gallo®️ (@guhlo) January 30, 2018
7. In terms of liquor, millennials are digging on vodka. 
But among all #Millennials, Vodka is the winner ! #HMP4 pic.twitter.com/GDW9gE9DSf

— Sensis (@sensisagency) May 14, 2015
8. Although millennials also enjoy whiskey, and are helping to make it more popular. 
#Millennials, more than tech: are leading the movement to "brown spirits" http://t.co/9w3Lb7DLMm via @IBDinvestors pic.twitter.com/nRKuwXRZYQ

— Roberto Ricossa (@rricossa) October 9, 2015
9. When millennials drink wine, they spend, on average, about $11-15 on a bottle.
The alcohol habits of Millennials & Gen-Z. https://t.co/ZpwLyYh4j9 #alcohol #millennials #GenZ pic.twitter.com/dUTIqJ8BfF

— Randy White (@whitehutchinson) January 31, 2018
10. Millennials, especially male millennials, also really like rosé. 
44% of Millennials in NYC drink rosé #wine 1 or several times/week as opposed to 34% of Londoners! Discover more on our website #VINISUD2017 pic.twitter.com/HGAfZ8ENgl

— VINISUD (@VINISUD) January 10, 2017
11. Millennial "fine wine" connoisseurs spend less than baby boomers on wine (yes, this is still a shitload of money). 
More on the #wine spending habits of today's consumers, including #GenX and #millennials from @wineaccess https://t.co/NjnWhrO5Yz pic.twitter.com/kkrL14EKWP

— VineSpring (@VineSpringWeb) February 6, 2018
12. But "fine wine" millennials are more adventurous when it comes to wine types they'll try. 
They're less adventurous when it comes to #wine choice, but #GenX'ers top #Millennials and #babyboomers wine spending according to @wineaccess report from a 10yr data #research on #US wine #market https://t.co/eqiTvl4XKz via @WineSocial pic.twitter.com/XNBY5AP1xt

— WineSocial (@winesocial) February 1, 2018
13. Finally, slightly more than half of millennials choose weed over booze. 
New #market #research in #California shows that 51% of #millennials will soon replace #alcohol with #cannabis. #420 https://t.co/WPEtxcNiK3 pic.twitter.com/fLilb8LzW7

— outco (@outcosd) April 19, 2017
What are your thoughts on these millennial booze trends? Which one of the below cocktails do you think millennials would trade their avocado toast in for? Let us know!
https://www.youtube.com/embed/im9gvWHjXzM
See recipe. 
https://www.youtube.com/embed/48DI0uqosys
See recipe. 
Images: Nielson Consumer & Media Insights 
GIFS: Giphy