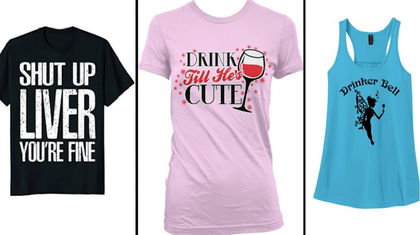 20 Booze T-Shirts for People Who Love Puns and Liquor
Yes, we know that the following 20 boozy T-shirts are pretty damn cheesy, but we know as well as you do that there's definitely a time and place for this kind of gear — like on a cruise or at a funeral for somebody who had a sense of humor. Anyway, check out this dub's-worth of shirts to see if you want to give any one of these punny booze slogans a shot. (GET IT?!)
1. Malt Whiskey 
Yeah, you could wear a Walt Disney T, or you could wear this Malt Whiskey T and show off your love for whiskey. And possibly copyright infringement.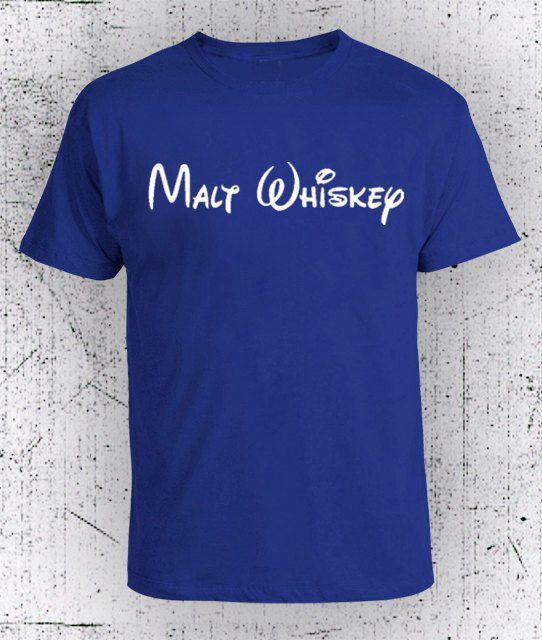 Image: Amazon
2. That's What I Do: I Drink Whiskey and I Know Things 
This shirt's a play on Tyrion Lannister's famous quote, "That's what I do: I drink wine and I know things." It's perfect for whiskey lovers and really perfect for whiskey lovers who love Game of Thrones.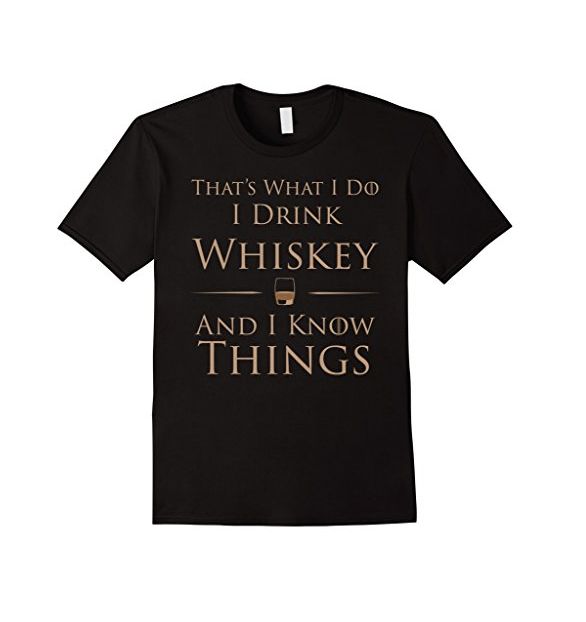 Image: Amazon
3. At My Age I Need Glasses 
A boozy T-shirt ideal for that special someone who's been around the block a few times, loves drinking, and possibly has cataracts.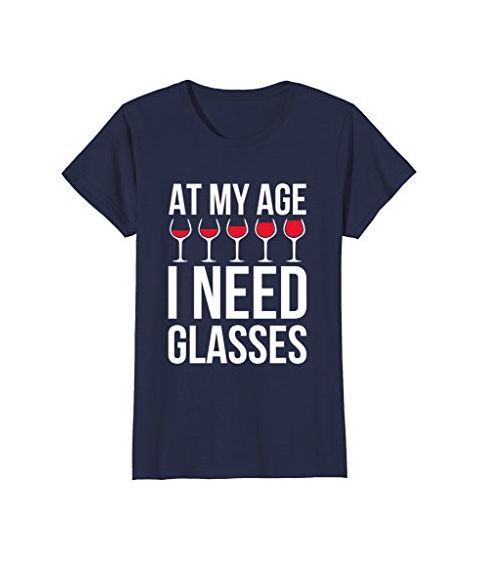 Image: Amazon
4. I NEED A HUGe glass of vodka 
Sometimes you need a hug, sometimes you need a huge glass of vodka. And sometimes you need both, which is when you'll wear this shirt.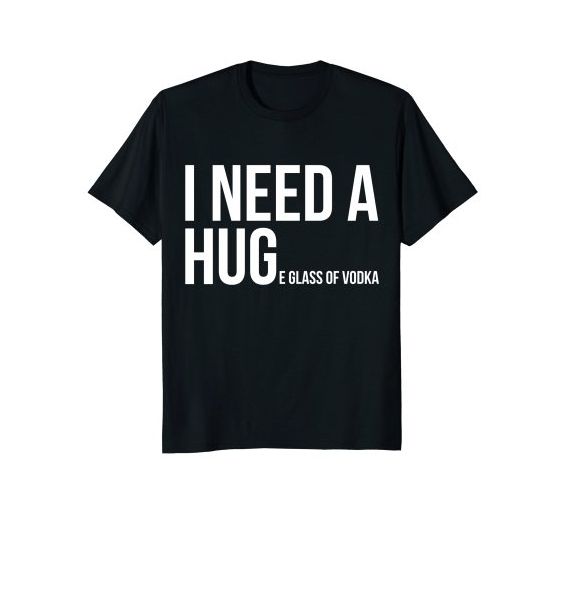 Image: Amazon
5. Shut Up Liver You're Fine 
Yes, you should take care of your liver — by drinking responsibly! — but you're liver is a good ol' chum of yours, it can handle some ribbing.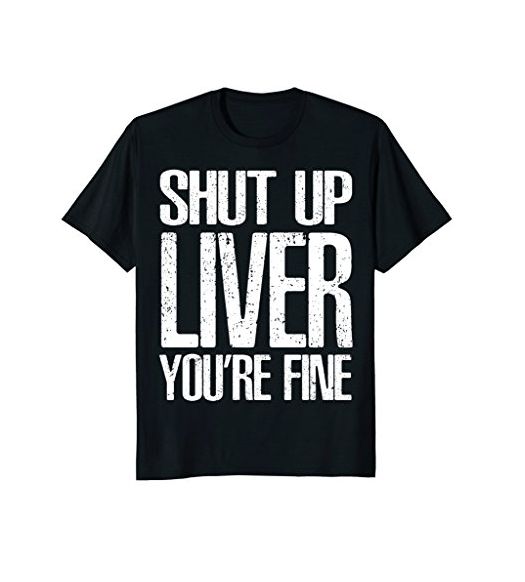 Image: Amazon
6. Vodka Is Gluten Free 
How about you do a little educatin' while you're drinking? Also, vodka is most definitely gluten (and carb!) free.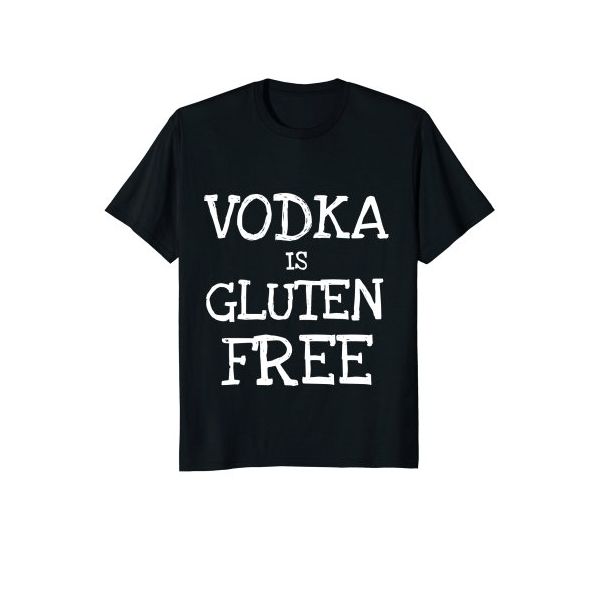 Image: Amazon
7. My Blood Type Is IPA+ 
We all have that person in our lives — you know, the one who can't shut up about craft beer? Get them this shirt, 'cause even though it won't shut them up, it'll probably encourage an argument with somebody who likes lagers and that'll be fun to watch.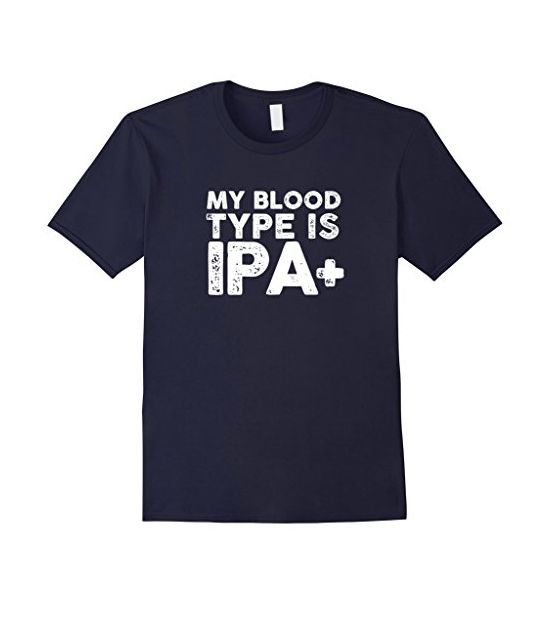 Image: Amazon
8. Why Is My Tequila Hand Empty? 
Seriously though, why is your tequila hand empty? Wear this shirt and odds of tequila being placed in your hand probably increase by at least, like, 10%.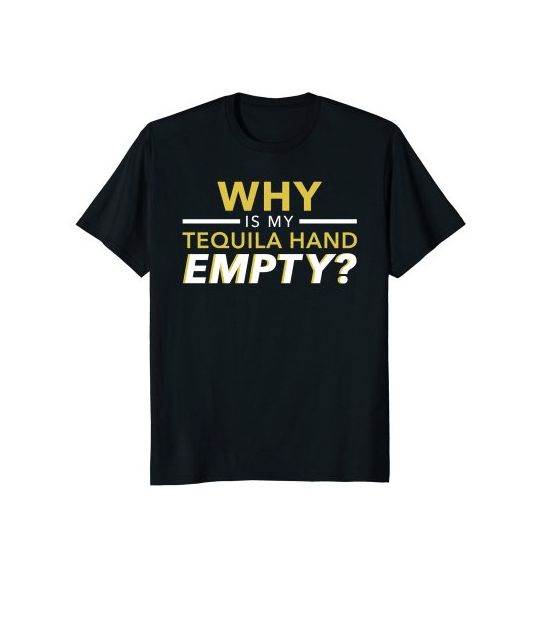 Image: Amazon
9. Let's Get Ship Faced 
For the nautical booze-lover in your life, the Let's Get Ship Faced T-shirt. Because is there anything better in life than drinking on a boat in some chill seas? Probably, but that's still pretty great.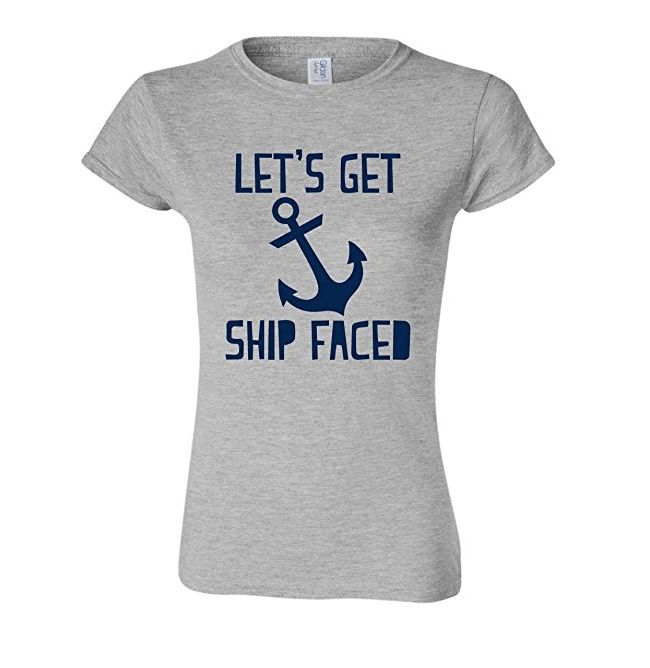 Image: Amazon
10. Drink Till He's Cute 
OK, it's not exactly PC, but the sentiment is kind of true; you can drink until almost anybody is cute.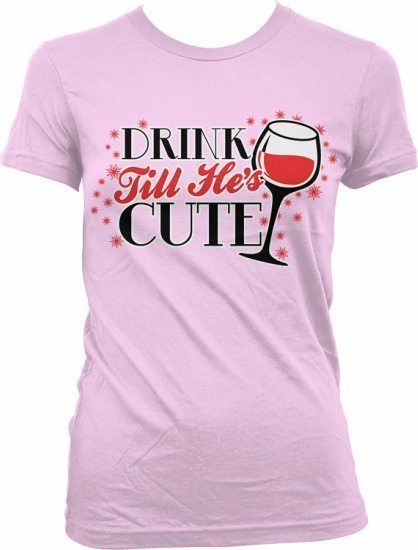 Image: Etsy
11. You Miss 100% of the Shots You Don't Take 
A T-shirt that speaks the truth. Also, you may miss 100% of the shots you do take depending on how deep into the sauce you are on any given night.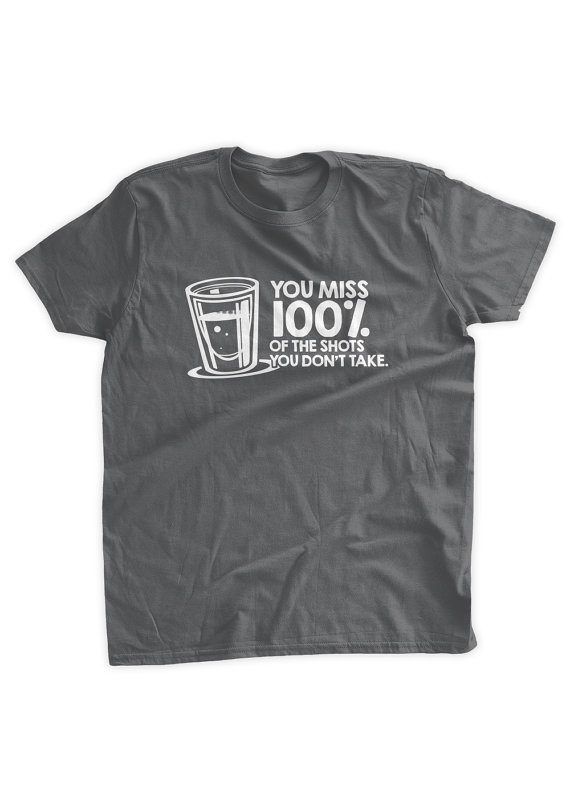 Image: Etsy
12. Drinker Bell 
Drinker Bell: She's like Tinker Bell but better. Perfect for people who love cocktails as much as fairytales.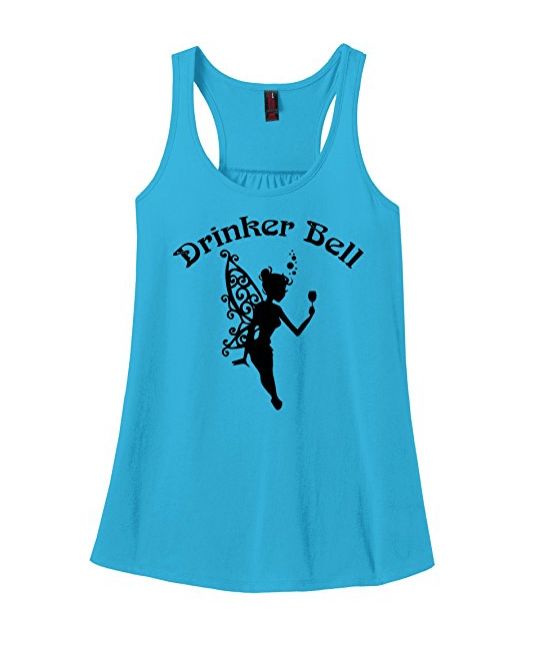 Image: Amazon 
13. Mom's Fidget Spinner 
Oh shit, fidget spinners are already old news huh? But not "Mom's fidget spinner!"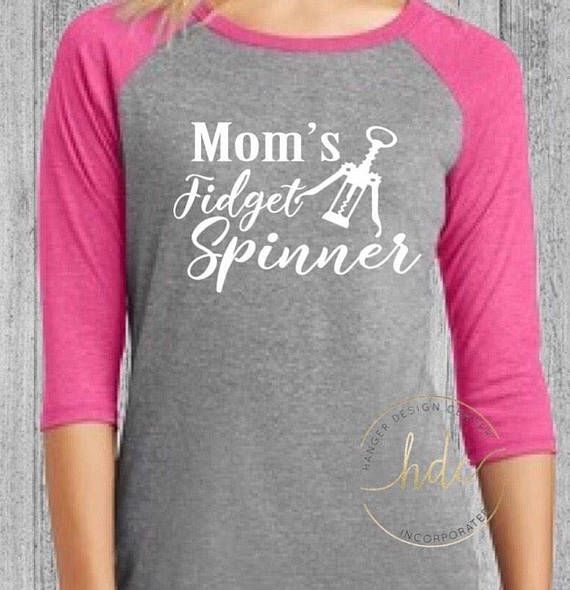 Image: Etsy
14. Hakuna Some Vodka
Hakuna Some Vodka: It means no worries, for the rest of your days! Or at least until tomorrow morning, when you may definitely have some worries and a need for electrolytes.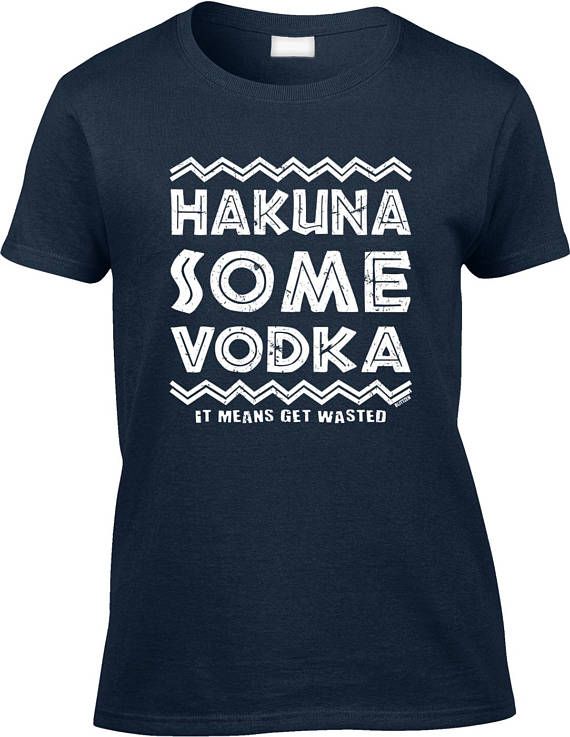 Image: Etsy
15. Bad & Boozy 
Are you actually not that bougie? Then this Bad & Boozy shirt belongs on your torso. Or maybe you are bougie, but you just love booze.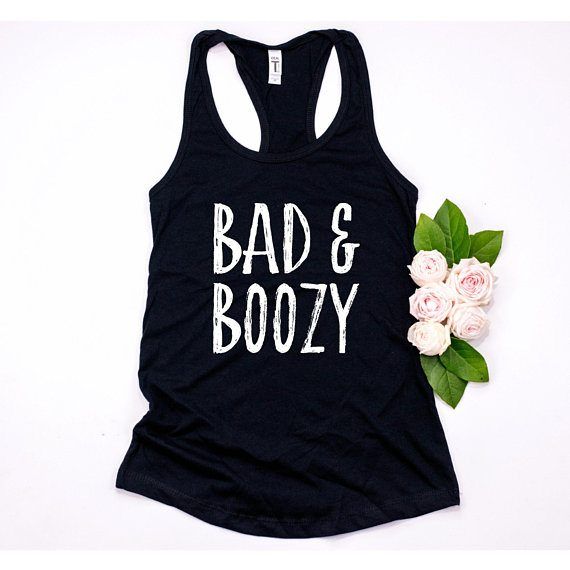 Image: Etsy
16. Mimosa Squad 
If you have a normal weekend brunch squad, it's basically unforgivable if you don't all wear these Mimosa Squad T-shirts in unison while you're drinking.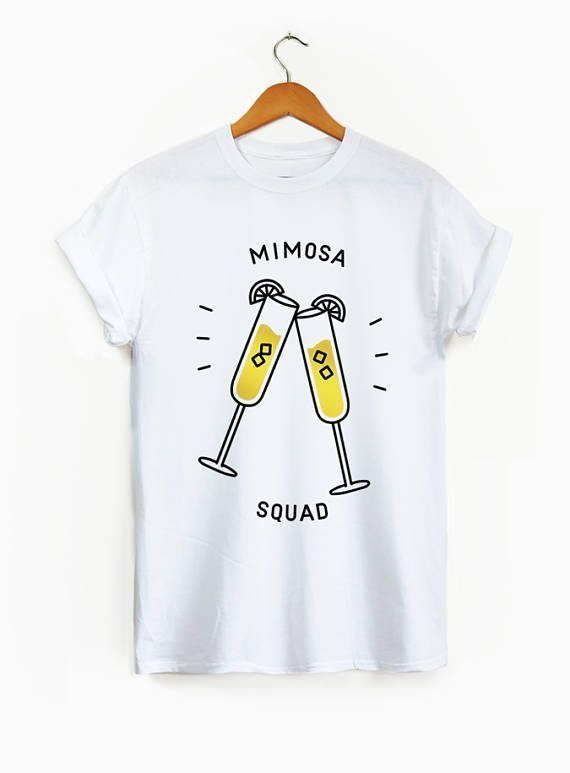 Image: Etsy
17. Hooray for Rosé 
People who love rosé really love rosé, right? So get them this shirt if you want to make them happy. Or just a bottle of rosé, that may make them even happier.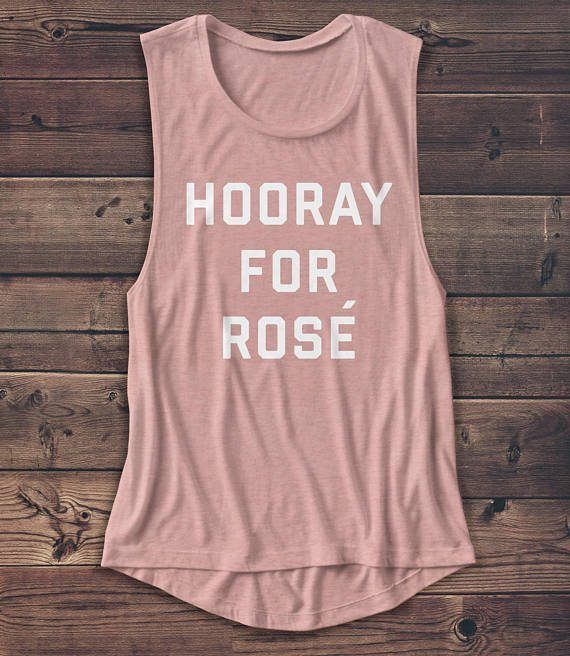 Image: Etsy
18. Alcohol You Later 
Even more booze puns on shirts! But will you really alcohol us later?! We need to know, damn it!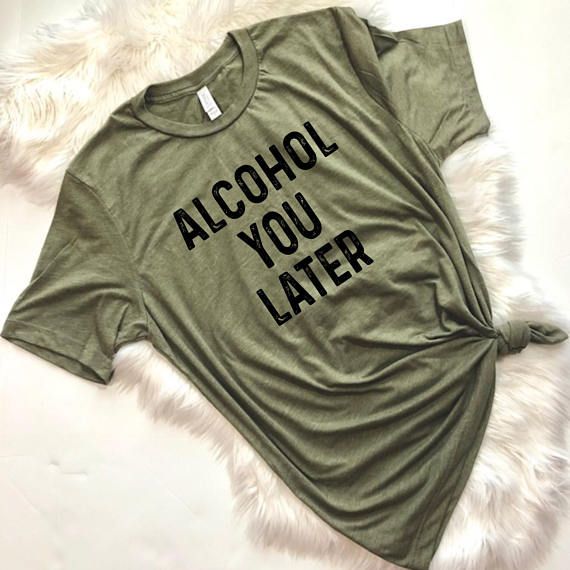 Image: Etsy  
19. I'll Be There in a Prosecco 
A shirt that's perfect for pro(secco) drinkers who love funny T's.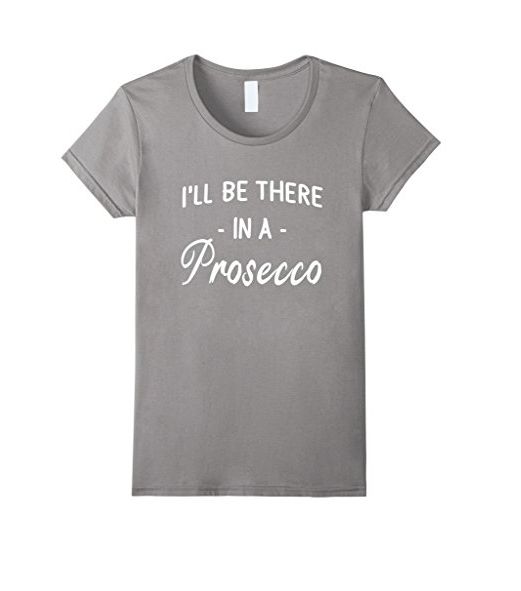 Image: Amazon
20. Sangria Consumed 
Finally we have a sangria Venn diagram shirt, which is great 'cause it combines drinking and graphs, which overlap more than you'd expect.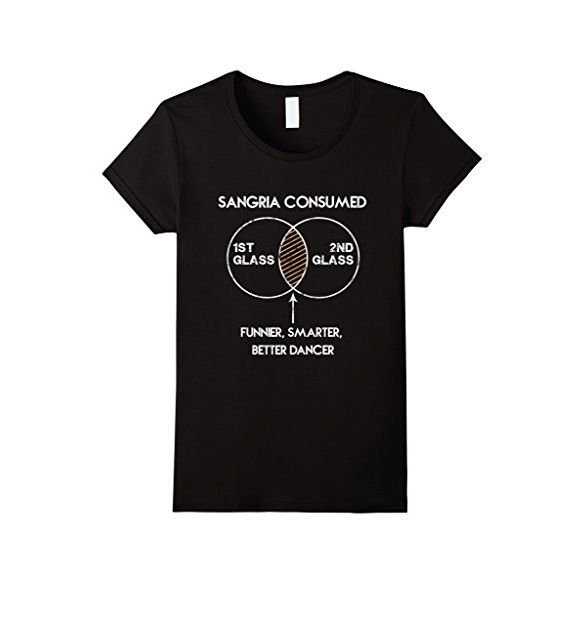 Image: Amazon  
Are you down with any one of these boozy shirts, or would you let your torso freeze like one of the slushy cocktails below before being caught wearing this stuff? Let us know in the comments!
https://www.youtube.com/embed/jjvESFuc2ig
See recipe. 
https://www.youtube.com/embed/uZl_TSa_WzE
See recipe. 
Featured image: Amazon 
GIFS: giphy