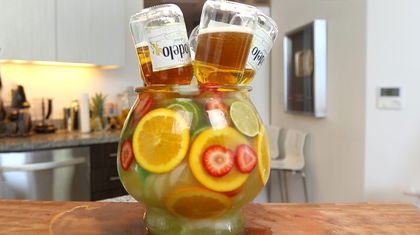 5 Beer Margaritas for Super Bowl Sunday
We've already talked about
five epic Jungle Juices for your Super Bowl party
, but for people who aren't looking for a massive tub of booze that you could literally take a bath in, we have these beer margaritas. Each one of the following five drinks packs plenty of taste and punch, and the best part is they'll keep you refreshed and tipsy even while everybody else is napping through the halftime show. (Just kidding, we're sure it'll be great, left shark for life though.)
1. Machine Gun Margarita 
The Machine Gun Margarita is a drink that cannot miss. Every sip of this icy, Modelo-infused bowl combines some Mexican brew and fruity flavors, and is great for football fans looking to keep cool and calm when the game gets close. https://www.youtube.com/embed/q08w0uBZdME See
recipe
.
2. Blue Margarita 
Kick up the slush factor on your beer-margarita combo with this beautiful Blue Margarita. Despite its angelic coloring, we promise this drink will have you on your butt in no time — although you'll be on the couch watching the game anyway, so don't stress. https://www.youtube.com/embed/3TCFVFz-MGY See
recipe
.
3. Tropical Fishbowl Margarita 
The Tropical Fishbowl Margarita definitely has the most island vibes out of the options on this list, which means it's perfect for people who are looking to get away from all the football madness and retreat to the Caribbean in their heads  — you can't always count on a Corona commercial for that, right? https://www.youtube.com/embed/h2FWnmNrdO8 See
recipe
.
4. Frosty Bulldog Margarita 
The Frosty Bulldog Margarita is basically a classic blended margarita with a Corona flipped upside down and stuffed inside of it, and if that simple mix doesn't get you excited, then you're not a red-blooded American and you shouldn't be watching the Super Bowl. (Just kidding, enjoy whatever booze you want, advertisers will still want your money.) https://www.youtube.com/embed/Hy3I2pYHJaQ See
recipe
.
5. Strawberry Beer Margarita
Finally we have the Strawberry Beer Margarita, which adds a slice — OK, like 100 slices — of strawberry into the mix. This is the pick to go with if you need something for your Big Game party that won't give everybody a massive brain freeze. https://www.youtube.com/embed/vX_ntpY6Aqg See
recipe
. Give us your thoughts about all these beer margaritas in the comments section. We know you love margaritas and football, but we can never hear enough about it!