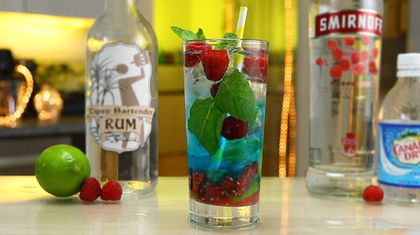 5 Fun 'n' Fruity Mojitos
Cuba usually brings to mind vintage cars and pricey cigars, but the mojito, which originated in Havana in the 1500s, is also a big part of Cuban culture — as well as a go-to drink for Hemingway while he was there. So in honor of the classic cocktail, here are a few fruity variations that will definitely delight you, and may have even pleased Papa.
1. Dragon Fruit Mojito 
Here's a drink with some real balls — dragon fruit balls to be exact. This Dragon Fruit Mojito adds a few scoops of the delicious fruit into the mix for a cocktail as vibrant as its home country. https://www.youtube.com/embed/rPmMfdEdhmI See
recipe
.
2. Blue Raspberry Mojito 
The Blue Raspberry Mojito is just as sweet and breezy as its name implies, but still keeps the sugar levels down for all you people worried about maintaining your tight little beach bellies. https://www.youtube.com/embed/wcOZ7VA3cFM See
recipe
.
3. Strawberry Pomegranate Mojito 
Sip on this Strawberry Pomegranate Mojito and not only will you get a nice tipsy going, you'll also help out your health with a whole bunch of antioxidants. Cuba is all about the health care after all, right?! https://www.youtube.com/embed/0-_FKGnpOR0 See
recipe
.
4. Absolut Melon Mojito 
This Absolut Melon Mojito lets you go green in the best way possible. Little melon balls, coconut rum, and a tiny bottle of Absolut vodka make for a combo that will have you (politely) yellin' for more melon. https://www.youtube.com/embed/DhPLCSDoP78 See
recipe
.
5. Frozen Strawberry Kiwi Mojito 
Try slashing things up in style with this Frozen Strawberry Kiwi Mojito. This ice-blended version combines a red, strawberry-flavored layer, with a green, kiwi-flavored layer, for a colorful clash of smashed fruit and booze. https://www.youtube.com/embed/iS-9bNg9dWE See
recipe
.
6. The Classic Mojito 
Popping up here as a stealthy number six on the this fruity list is the Classic Mojito — because not everybody is, or wants to be, a black belt in Fruit Ninja-style mojito mixology. https://www.youtube.com/embed/mIPMeIady3w See
recipe
. What do you think about these fruity mojitos? Do all these beautiful colors have you craving a tipsy taste of Cuba? Let us know in the comments!