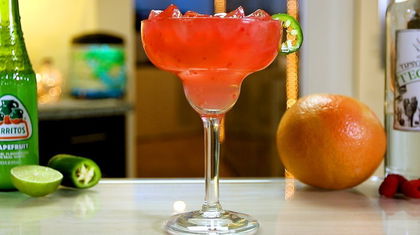 5 Jalapeño Cocktails for the Caliente Crowd
We all have that friend who has to show off their ability to withstand hella-hot mouth by eating the spiciest of the spicy foods, right? You know, the friend who plucks and sucks chili peppers out of the orange chicken, and puts Tabasco on their toothpaste? Well, for that friend who's so bored with the bland, here are five jalapeño cocktails — these spicy cocktails may not literally be on fire
like these flaming shots
, but they're still certain to make folks sweat.
1. Jalapeño Margarita 
All the jalapeño lovers out there, can we get a hallelujah amen for this Jalapeño Margarita?! This sexy yellow margarita may look like it only has a Tajin-y bit of spice to it, but with plenty of muddled jalapeños in the mix, we promise each sip kicks up the spice factor to... about a seven. (We're not
trying to kill anybody
.) https://www.youtube.com/embed/9pxxuf6j2Y8 See
recipe
.
2. Grapefruit Jalapeño Martini 
Here's another little belly burner for the folks who need to add spice to everything, including their Visine: It's the Grapefruit Jalapeño Martini, and it's a muy caliente cocktail that's sure to make your eyes, and mouth, water. https://www.youtube.com/embed/EOSBaPpZsWw See
recipe
.
3. Raspberry Jalapeño Tequila 
Although we're focused on spice fiends right now,
straight-up Jalapeño tequila
can still be a bit intense for some. So for those folks who want a slightly sweetened spice, we have the Raspberry Jalapeño Tequila cocktail. It's got a kick, but it's wearing some Bailey Button boots, so it's a gentle kick. https://www.youtube.com/embed/nhCs2UwM-5Q See
recipe
.
4. Spicy Tequila Sunrise 
Because jalapeño and tequila go together like Tinder and disappointment, here's another fusion of the two. It's the Spicy Tequila Sunrise, and it's so simple even you — 21-and-over!!! — English majors could make this drink at your next little house party. https://www.youtube.com/embed/9C2vUpCt8GQ See
recipe
.
5. Jalapeño Tequila 
Finally, we have Jalapeño Tequila on its own. It's the simplest and spiciest option for anybody who wants a drink with a serious kick, so much so that a shot of this really should come with a skull-and-bones warning label. https://www.youtube.com/embed/4FHcotLQz_0 See
recipe
. What are your thoughts on all these jalapeño-infused cocktails? Could you handle this kind of spice, or are you good sticking with all those super-sugary drinks that focus on your sweet tooth? Let us know in the comments!