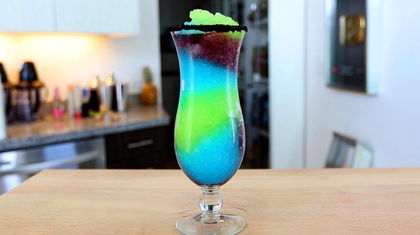 5 Space Cocktails for the SpaceX Rocket Launch
SpaceX is finally testing its Falcon Heavy rocket for the first time, and if it works, it will be "
the most powerful operational rocket in the world
by a factor of two." To celebrate this giant beast of an interplanetary vehicle — if the mission is successful Elon Musk's red Tesla will be put into Mars orbit — we thought it'd be good to have plenty of space-related cocktails on hand. To that end, here are five of our favorite drinks that will have you counting down to T minus tipsy. https://www.youtube.com/embed/wbSwFU6tY1c
The live SpaceX feed to watch while you're sippin'. 
1. Meister on Mars 
Musk and SpaceX want to get humanity to Mars ASAP, and we can't think of a better shooter to honor that goal than the Meister on Mars. We don't know what victuals the first Martian colony will be stocked with, but Jägermeister should be one of them, right? https://www.youtube.com/embed/cfl3xh5PY8Q See
recipe
.
2. Alien Sex 
It's impossible to say whether or not there's really any alien life out there in our solar system or the Cosmos, but if there is, we know two things: those extraterrestrial creatures are definitely getting it on in some form, and they'd probably love this tasty, slushed-up Alien Sex cocktail. https://www.youtube.com/embed/3lIaALdlQpw See
recipe
.
3. Peach Moon 
To celebrate the one astronomical body humans have set foot on aside from Earth, we have this (somewhat ironically) bright-as-the-Sun Peach Moon cocktail. The fruity flavors are dense as a neutron star with this drink, but it's still light enough to get you into tipsy orbit. https://www.youtube.com/embed/QlvSW1RARoA See
recipe
.
4. Alien Shooters 
OK, so we really hope there are aliens out there, which is why we had to include these Alien Shooters. Plus Musk and SpaceX have said that their larger rockets can make it to Europa, which has oceans — meaning possible alien life, and subsurface seaside parties that'll need tasty shooters. https://www.youtube.com/embed/9XjqfXjx-lQ See
recipe
.
5. Galaxy
People setting foot on Mars would doubtlessly be one of humanity's greatest achievements, but how about exploring all of our neighboring star systems? That would be downright mind-blowing, just like this Galaxy cocktail, which is as swirly as our own Milky Way. https://www.youtube.com/embed/FM3BRjEl-tM See
recipe
. What do you think about these space-based cocktails? Which one would you drink to celebrate a successful manned mission to Mars — or maybe just a Friday night looking up at the stars from a rooftop bar? Let us know your thoughts!