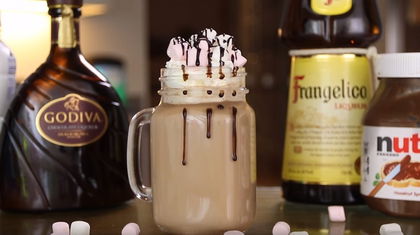 5 Spiked Hot Chocolates for Nasty Nor'easter Weather
Mother Nature is currently nut-punching much of the country with the frozen fist of a Nor'easter, so we thought this would be the perfect time to whip out our five warmest, tastiest, tipsiest spiked hot chocolates. Each one offers a different flavor, but they'll all keep you warm, calm, and in the mood to cuddle with any people, pets, or pillows within a 10-foot radius.
                                                via Giphy 
1. Spiked Nutella Hot Chocolate 
The Spiked Nutella Hot Chocolate is Heaven on Earth. Frangelico, chocolate liqueur, Nutella, whipped cream, marshmallows... we're actually kind of thankful it's so damn cold now just 'cause we have an excuse to make this drink. https://www.youtube.com/embed/rcd50uf0Wk4
See recipe.
2. Amaretto Hot Chocolate 
Almonds, hot chocolate, vodka, grated chocolate, the Amaretto Hot Chocolate has it all. It's basically a big, warm, chocolatey snuggle party in your mouth and all your taste buds are invited. https://www.youtube.com/embed/tJKx8PnzR0k
See recipe.
3. Peppermint Hot Chocolate 
For the mint fans freezing their buns off in the snow, rain, and sleet, we have the Peppermint Hot Chocolate. It's just as refreshing as it is boozy, and that mint will help to keep your breath fresh in case cold-weather snuggling leads to cold-weather kissing. https://www.youtube.com/embed/C5bV83SjKdA
See recipe.
4. Red Wine Hot Chocolate 
Red wine in hot chocolate?! Yes, people, the Red Wine Hot Chocolate sounds kind of crazy, but we promise it's also crazy delicious. Plus, you've never really lived until you've had red wine and chocolate sauce in your mouth simultaneously. https://www.youtube.com/embed/CptOliLJ5Z4
See recipe.
5. Polar Bear Hot Chocolate
Finally we have the Polar Bear Hot Chocolate, which is perfect if you're surrounded by snow. We're not sure, but we think this drink is how Polar Bears manage to get through the chilliest times in the North Pole. https://www.youtube.com/embed/Hi7RtZ1541w
See recipe.
Bonus: Hot S'mores Shooters '
And because you should really be toasting something while it's this freakin' cold outside, we have these little Hot S'mores Shooters. They're crunchy, creamy, fluffy, and boozy, and you honestly may end up falling in love with them. https://www.youtube.com/embed/zwCCfZnuZkI
See recipe.
What are your favorite drinks for tiding yourself over during especially cold times? Let us know in the comments!