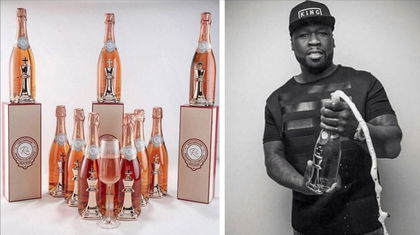 50 Cent's Launching a New Champagne, 'The King's Road'
Breaking champagne news, people: 50 Cent is launching a new line of bubbly dubbed Le Chemin Du Roi, or "The King's Road," and it looks as fancy (and pricey) as one of the many Queens-born rapper's rides. Seriously though, is that giant king chess piece inside the bottle or outside the bottle? It's hurting our brains. 
News of the champagne, which comes via XXL, has been posted across 50's social media accounts, with the first teaser posts for the champagne appearing around Easter. Now it seems bottles of Le Chemin are officially ready to roll out, with posts from the company and 50 showing boxes and boxes of the stuff on a forklift and new Insta photos captioned "Who's ready?" and "From Reims France we present (THE KING)..."
Like 50's deal with EFFEN vodka — which it seems is technically still on, although 50 did cash out a big cut of his stake for $60 million in 2017 — it seems that 50's deal with Le Chemin is an investment-plus-brand-ambassador kind of setup, although it's unclear if he's a majority or minority stakeholder in the company. The brand is definitely being distributed by wine and spirits giant Southern Wine & Spirits though, so expect a massive rollout as well as plenty of money being pumped into getting the word out to people. 
Happy Easter wishing you and yours nothing but the best. Enjoy your day stay away from unproductive,unhappy people God bless. #LeCheminDuRoi pic.twitter.com/UkVA5xcSHT

— 50cent (@50cent) April 1, 2018
In terms of our take on the new line of bub', we think 50 endorsing a champagne makes a lot more sense than his endorsing a vodka. A bunch of his tracks, including his biggest hits like "In Da Club," feature champagne references, and he's also stated on record that it's his favorite drink. We'll still have to taste it to make a final decision though. 
If you want to get your hands on some of this super-fancy king bub', you'll have to hold on for right now, as no release date or price has been released. If you do grab a bottle soon, please tweet or comment or somehow tell us WTF is going on with that chess piece. It feels like we're hungover from trying to figure out what's happening there and we haven't even been drinking. 
Any thoughts on 50's new bubbly? Would you use it in either of the champagne cocktails below? Let us know! 
https://www.youtube.com/embed/tm4qUtic1-Q
See recipe. 
https://www.youtube.com/embed/k8PJ8lmcpoc
See recipe. 
Images: Le Chemin Du Roi / 50 Cent
GIFS: Giphy