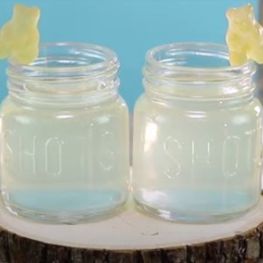 9 Shots That Will Thrill the Gummy Bear Lover: Delicious Recipes and How-To's
Booze and gummy bears are two of the most important things in life. And when you put them together, it's a match made in heaven! In this blog post, Tipsy Bartender will share with you a gummy bear shot recipe in nine different ways that will thrill the gummy bear lover. These recipes are delicious and easy to make and will brighten your get-togethers or bachelorette parties. So get your liquor cabinet ready and let's get started!
What is in a Gummy Bear Shot?
There are a few different ways that you can make a gummy bear shot. The most popular way is to take a gummy bear and soak it in vodka overnight. Then, when you are ready to shoot, you simply pop the gummy bear into your mouth and take the shot. Another way to make a gummy bear shot is to mix vodka, Jell-O, and gummy bears altogether. This creates a delicious gelatinous mixture that you can shoot or eat with a spoon!
How to Make a White Gummy Bear Shot
If you want to get really fancy with your gummy bear shots, you can try making white gummy bear shots. To make these, your need to mix vodka, peach schnapps, sweet and sour mix, and lemon-lime soda. Sprite can usually do the trick for the soda, but remember to shake ever so gently with soda. Serve it with a white gummy bear garnish to really top it off!
Here is a countdown of our favorite shot recipes that feature or include gummy bears: