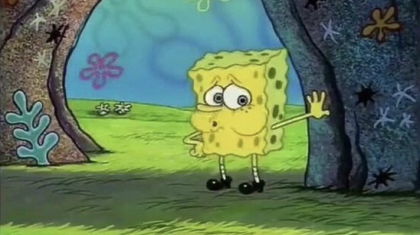 9 Tweets that Prove Winded SpongeBob Is Made for Tequila
You've probably noticed the "winded SpongeBob" meme floating around the internet lately — 'cause everybody is winded, apparently — although what you may not have noticed is that a surprisingly large number of people are using it to describe their very relatable experiences with tequila. So to get you up to speed, here are eight of the best winded SpongeBob memes for when tequila is just too damn much.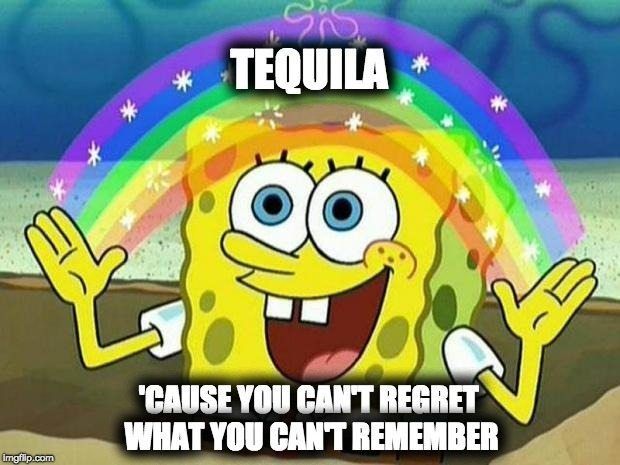 1. When pacing es muy dificil. 
When all the tequila shots hit you at once pic.twitter.com/IUqRpmTZIz

— Macy Miller (@macylaynemiller) March 28, 2018
2. When your friends are on a new level, but that level makes you barf. 
Friend to me: What kinda shot u want?

Me: Idc Friend to bartender: 2 tequila pls Me: pic.twitter.com/6e1CvvdZkz — McKay Harris (@mr___kk) March 30, 2018
3. When the smell hits and you gag a little. 
*sniffs shot of tequila* pic.twitter.com/e4CmdUxdyT

— dj dosas & samosas (@candleweather) March 30, 2018
4. When "this is fine." 
Me trying not to chase a tequila shot pic.twitter.com/KpRc0oYxNE

— Katy Mcgee (@katymcgee10) March 30, 2018
5. When the game changes.  
When the people you go out with for "a couple beers" start slamming tequila shots pic.twitter.com/p9gIBSABeg

— james robinson (@Swooner__) March 29, 2018
6. When one shot takes you out. 
Girl: Infact I only take tequila & it doesn't even have an effect on me

After 1 shot... Girl: pic.twitter.com/Sn0aGSbv3X — Young Black King 👑♠ (@pyepar) March 28, 2018
7. When you see destruction heading your way. 
When you see your friend ordering more tequila shots from across the bar... pic.twitter.com/AZs2ySvz7l

— Barstool ASU (@BarstoolASU) March 28, 2018
8. When we don't really know what this meme means, but tequila. 
When you go to drink water at a cooler fete but your friends forget to label "TEQUILA" on the water bottle pic.twitter.com/PARonxUDdq

— O H G (@OhGreatChoice) March 28, 2018
9. When even margaritas can't protect you from tequila's power. 
After my third margarita from Luna's pic.twitter.com/liF9ATtqUH

— Brandino 💕 (@BBBrandii54) March 29, 2018
Do you have a winded SpongeBob-tequila moment of your own? And what kind of SpongeBob would you be after drinking one of the tequila cocktails below? Meme it up, people! 
https://www.youtube.com/embed/QVMpXbXEk5Q
See recipe. 
https://www.youtube.com/embed/kx_oYKAQ7mE
See recipe. 
Images: Nickelodeon Animation Studios