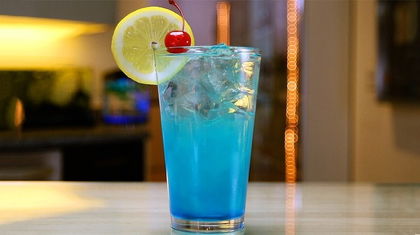 The Adios Is the Ultimate 21st Birthday Cocktail
Congratulations prospective cocktail connoisseurs! You've made it to your 21st birthday and now it's time to celebrate with a night out on the town and your first-ever legally purchased alcoholic drink. But which tasty beverage should you imbibe on your maiden voyage out into the uncharted seas of being lawfully buzzed? It's a tough call, but the consensus among those in the know is that the Adios Motherf*cker, a.k.a Adios, a.k.a. the AMF, is the go-to mixed drink for celebrating your finally joining the denizens of the adult-drink community. You say goodbye, we say hello to the Adios Motherf*cker! https://www.youtube.com/embed/jmWC90GCi4A See
recipe
. In the above clip, we have a quick look at all the steps involved in making the simple yet potent drink, which you should know even though you'll probably be ordering it at a bar — knowledge is power after all, plus you should be keeping a watchful eye on the booze to not-booze ratio for good measure. But why exactly is this legendary cocktail the perfect drink to commemorate your turning 21? Let's break it down! First of all, the Adios Motherf*cker is downright powerful. We're talking 
muy fuerte
, OK? With a mixture of different types of booze including vodka, rum, gin, tequila, and blue curaçao, the AMF lets you have your first legal taste of just about every one of the bar basics
simultaneously
. You know about killing two birds with one stone? How about sampling four liquors and one liqueur all in one sip.
GIF: Disney 
Along with the Adios Motherf*cker providing a proper punch of a wide selection of alcohols, the drink is also ubiquitous among pretty much any respectable establishment you'll go to. Ordering some one-off shot on your first outing to a bar could earn you a sour glance from the bartender, who, trust us, you want as your best friend on this holiest of nights. But let slip into the music-filled air the glorious words, "Adios Motherf*cker," and watch your drink summoned before you like magic. Although keep in mind that some of the snootier bars may refuse to serve the AMF, on the grounds that it attracts the wrong type of crowd. (But trust us, you don't want to spend your 21st birthday at those kinds of places anyway.) Oh, and here's the cherry on top of the AMF, and no, we're not talking about the literal cherry on top of the drink: The Adios Motherf*cker, for the amount of booze it contains, is pretty dang cheap. Which means you'll be able to achieve next-level tipsy without busting up the bank account. And if you want to mix things up and add some shocking brain freeze to this little beautiful blue baddie of a drink, check out the Frozen Adios in the clip below. It'll have you feeling just as buzzed as the regular AMF, but with more of a slushy-vibed slosh. See
recipe
. What do you think about celebrating your 21st birthday with the Adios Motherf*cker? Can you think of a better drink for remembering (or not remembering) one of life's biggest rites of passage? Let us know in the comments!