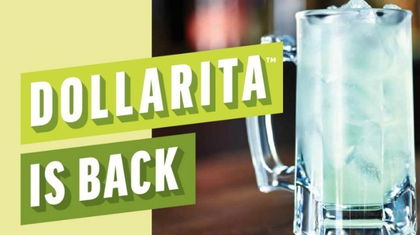 Applebee's $1 Dollaritas Are Back for All of April!
Last month Applebee's brought us $2 Absolut Vodka lemonades, which denizens of the internet seemed to be pretty damn excited about. But that bullshit can move the hell over 'cause the giant restaurant chain is bringing back $1 Dollaritas for the entire month of April! OMG!!!!
Applebee's announced the return of the $1 Dollaritas on its twitter account on April 1, but it's been verified that this is not a cruel April Fool's joke meant to crush our dreams of getting tipsy off of super cheap margaritas that go great with super cheap chips and salsa, super cheap grilled chicken wonton tacos, and your super cheap date.
We interrupt this timeline for an important announcement.

*****The DOLLARITA is back.****** That is all. Back to your regularly scheduled tweets. pic.twitter.com/jdsjiahlli — Applebee's (@Applebees) April 1, 2018
Also, if you're curious about how Applebee's manages to deliver an alcoholic margarita to all of its patrons across the U.S. for $1, this BTS video made by an Applebee's employee the first time the Dollaritas were introduced should answer any questions you have. 
Remember to call in to your local Applebee's to make sure they have the Dollarita before you go to the restaurant. Or, if you can manage to spend more than a single U.S. dollar on a margarita, you can make one of the ones below in the comfort of your own home. 
https://www.youtube.com/embed/rNTjRt76CfU
See recipe. 
https://www.youtube.com/watch?v=_ipfKC82mT0
See recipe. 
Images: Applebee's 
GIFS: via Giphy