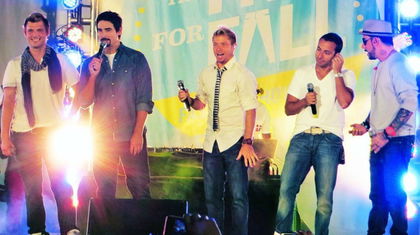 The Backstreet Boys Are Starting a Tequila Brand!
Get ready to have "Quit Playing Games" stuck in your head for the next few hours, 'cause Backstreet's back with a new tequila brand, alright?! Seriously though, are you alright with that? 
Yep, this is not a false alarm folks: The Backstreet Boys, the boy band your older sister listened to while she compiled her Beanie Baby collection in the '90s, is ready to branch out into the tequila business just like George Clooney, who sold his Casamigos brand tequila for a healthy $1 billion. 
The Backstreet Boys — who are really Backstreet Men at this point, as their ages range from 38 to 47 — revealed their plans to start the tequila company to Tasting Table during a two-show performance at the Moon Palace luxury resort in Cancún, Mexico. 
Hearing @backstreetboys is dropping their own tequila... I'm gonna have to start drinking tequila again. 🥃

— Ashley Dean (@FrankenDeanie) March 19, 2018
Am I in heaven?!? All in one day we got news of a new solo album from @nickcarter ,news of a @backstreetboys tequila, and now a bbq restaurant!! Our boys know what's up!! Them them so! ❤ https://t.co/9T0XaOw4wS

— Shanna (@shanna_frack) March 17, 2018
Although details are scant, according to a quote given by Nick Carter to Tasting Table, BSB just needs to find a partner in Mexico and then they're good to go.
That's not all BSB is getting into outside of music, however. According to TMZ, the juggernaut singing squad is also getting into the barbecue business with a restaurant dubbed "Backstreet Barbecue." (Which Nick promises will be finger-licking good.) 
When you have 2 boys from Kentucky and 3 from Florida I promise you that it's gonna be finger licking good 😂 https://t.co/hn7dBQyAbB

— Nick Carter (@nickcarter) March 17, 2018
As far as our opinion regarding BSB getting into the tequila game, we're going to have to wait and see. Factors going against the group include tequila already being a saturated market, and the possibility of a tequila shortage on the horizon. 
But who knows? All kidding aside, BSB may seem harmless and unable to cut it in the business realm, but remember these dudes have sold 130 million records worldwide, and are still in the game after 25 years. Plus older sisters everywhere really love them. 
Do you think the Backstreet Boys have what it takes to eventually pull off a billion-dollar Clooney deal? Are you going to drink some tequila cocktails like the ones below with "I Want It That Way" on repeat? Let us know! 
https://www.youtube.com/embed/kx_oYKAQ7mE
See recipe. 
https://www.youtube.com/embed/uLZdmCa_vrU
See recipe. 
Images: Flickr / Justin Higuchi