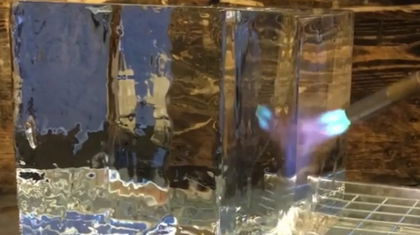 Behold the New Trend in Bartending: Ultra-Clear Ice
We found a bunch of videos of super-sexy, super-clean cocktail ice carving — which is apparently a new bartending trend on Instagram — so we had to put together a little list of seven of our favorite clips for you. And the best part of the trend, aside from getting an eyeball full of insanely clear ice, is watching these cubes get cut up into everything from diamonds to whiskey-holding spheres in the most satisfying ways ever. 
1. Ice diamonds are so damn pretty. And watching them get cut into their signature shape is so damn satisfying.  
Instagram / aubindisdonc
2. A big block of clear ice cleaved perfectly with a blowtorch and blade will satisfy your need for clean, watery coldness getting cracked just right. (Yes you have a need for that, we checked.) 
Instagram / edinburghicecompany
3. Speaking of super-clean and -clear ice getting cut up into perfect shapes so pretty they look unreal, here's that exact thing happening. 
Instagram / barebonesicecompany
4. Don't even f—ck around trying to say this whiskey ice ball isn't technically ice carving. It's just so next level it doesn't need to bother with crude tools like knives, hammers, and picks. 
Instagram / timmckee
5. Even more super clean and clear ice blocks. These are different than the ones in number three though 'cause they're smaller and you could probably roll them around in your hands and feel their perfection. 
Instagram / barebonesicecompany
6. You have to wait for this one until the end to get the satisfaction. But once the chainsaw makes it all the way through, that's a damn fine release. 
Instagram / edinburghicecompany
7. Watching this rough block of ice transformed into a perfectly smooth sphere is basically like watching Cinderella getting turned into... Cinderella. 
 Instagram / no. 1967 
Did these videos satisfy you deep down in a weird way you can't describe? Would you ever want to try making some satisfying flavor cubes of your own like the ones below? Let us know in the comments! 
https://www.youtube.com/embed/pp4zANSGWk8
See recipe. 
https://www.youtube.com/embed/zXzdRejJgMo
See recipe. 
Featured image: edinburghicecompany
GIFS: Giphy