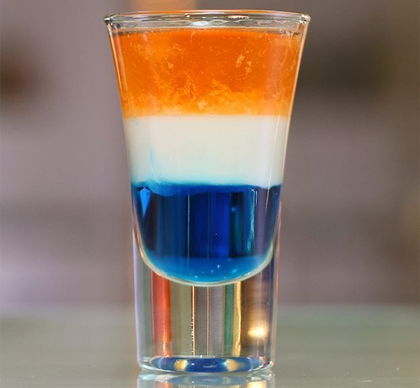 The Best Tide Pod Challenge Shot
Some downright foolish teenagers have apparently taken it upon themselves to tackle the so-called Tide Pod Challenge, which we can all agree is an insane stunt that can do some serious harm to these youngins. But to be completely fair, the little detergent packets meant to clean your jackets do at least look kind of tasty with their bright colors and glossy swirls of goop. So to celebrate the aesthetics of the pods — not people eating them — we present to you the delicious and super clean-looking Tide Pod Shot.
https://www.youtube.com/embed/rMNZ0P-FSzM
  What we have in the video above is a quick and simple shot that takes the primary colors of the popular detergent pods and uses them as the inspiration for a three-layered shot of booze. Below, you can find the recipe, which is as simple as not putting a freakin' poisonous pod in your mouth.
TIDE POD SHOT
1 Part Blue Curacao
1 Part White Chocolate Liqueur
1 Part Orange Vodka
PREPARATION
1. Pour blue curacao 1/3 of the way into a shot glass.
2. Using the back of a bar spoon, layer white chocolate liqueur on top, followed by orange vodka.
Again, making this shot does not mean we endorse or support the vicious viral trend of the Tide Pod Challenge. In fact, we'd like to echo the words of NFL star Rob Gronkowski, who was recruited by Tide to help people to remember not to eat their products.
What should Tide PODs be used for? DOING LAUNDRY. Nothing else.

Eating a Tide POD is a BAD IDEA, and we asked our friend @robgronkowski to help explain. pic.twitter.com/0JnFdhnsWZ — Tide (@tide) January 12, 2018
We at Tipsy Bartender support doing your laundry responsibly, and also, of course, drinking responsibly. So for the love of Pod, keep detergent out of your mouth and just do the sane thing and keep it tipsy.
Now what do you think about this Tide Pod Shot? Would you clean your mouth out with this bad boy? Let us know!