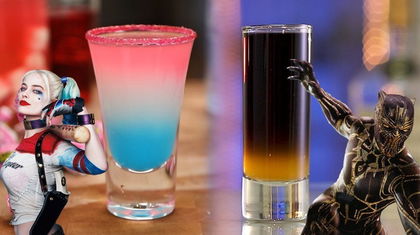 Black Panther Shots and Other Superhero Cocktails!
Black Panther's finally joining all his Marvel buddies on the big screen with a solo feature, and the movie
looks damn good
. Directed by Ryan Coogler, scored by Kendrick Lamar.... What we're saying is the movie looks nicely garnished with talent, much like these
Black Panther
Shots and other superhero cocktails. The shots have some claws though, so protect yourself.  
BLACK PANTHER SHOTS (KILLMONGER) 
It's straight-up vibranium to the cranium with these Black Panther Killmonger shots. They're so dang potent and pretty they'd fit right in in Wakanda. https://www.youtube.com/embed/4UUrmJk3QuM
See recipe.
INCREDIBLE HULK 
HULK SMASH(ED)! This Incredible Hulk cocktail is a pretty mondo drink, but hey, if you have mega Hulk hands, it's
actually a tiny shooter
. https://www.youtube.com/embed/GnudDzOQkw4
See recipe.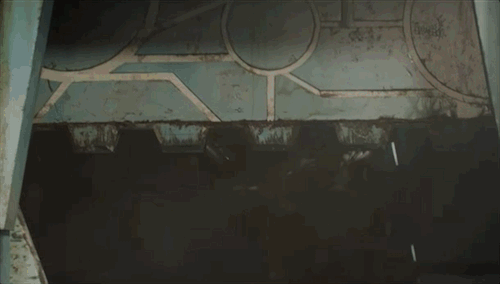 DEADPOOL SHOTS 
Continue the Marvel celebration with a couple of these Deadpool shots, which come out blazing with black absinthe. They're intense as Deadpool's uncovered face and they'll make you want a chimichanga. https://www.youtube.com/embed/80-uCNHCm34
See recipe.
IRON MAN COCKTAIL
Suit up for the Iron Man cocktail, 'cause you'll need to look mighty stylish to match this glowing bad boy. Inspired by
Avengers: Age of Ultron
, each sip of this drink'll make you feel like your Arc Reactor's getting a recharge. https://www.youtube.com/embed/Mv7WWAyktd8
See recipe.
JOKER
Put a smile on that face with the Joker shot and take some time to go a little insane — responsibly! You don't want
Batman
(or the po-po) kicking your ass. https://www.youtube.com/embed/CZ5mIUr_dX4
See recipe.
HARLEY QUINN 
How can you have a Joker shot without a Harley Quinn shot? Craziness loves company and this blue, white, and pink beauty will sock you right in the mouth with a whole lot of sweet rum taste. https://www.youtube.com/embed/H2PKiDLb0Gs
See recipe.
Tell us what you think of these Superhero cocktails and the
 Black Panther
movie in the comments!
Images: Marvel, Warner Bros.