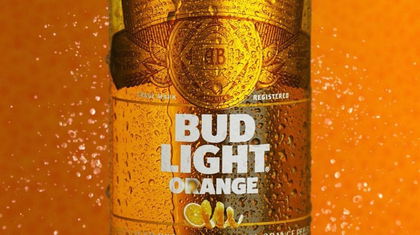 Bud Light's Launching an Orange-Flavored Beer
Bud Light fans, do you want more citrus flavoring in your brewskis?! Well Anheuser-Busch thinks you do, which is why it's adding Bud Light Orange to its family of beers. Oh, and it's also refreshing its Bud Light Lime line because whatever the younger sibling gets, the older one has to get too, right?
Bud Light Lime and Bud Light Orange are brewed with real citrus peels. Please refrain from licking your screen. pic.twitter.com/y7BctVWYS2

— Bud Light (@budlight) April 9, 2018
Esquire picked up on the new Bud Light Orange and the refreshed Bud Light Lime lines, which are being launched by Anheuser-Busch in order to further entice millennials, who are, according to the brew giant, "eager to try new, flavored options in the light lager category." And all we have to say about that is: Dang millennials really love their brightly colored and flavorful booze, don't they?
In terms of what flavor to expect for the new brew, it's pretty self-explanatory; imagine what a Bud Light Lime tastes like, then replace that beer's hint of lime with a hint of orange. And honestly, we're not sure how to feel about the flavor combo in the context of Bud Light, and twitter citizens seem to be fairly split as well. 
Bud light orange is fire idc what anyone says

— Rylee Sterling (@_rrrryl) April 1, 2018
PSA: Bud Light Orange is delicious

— breyanna (@breyannachenal) April 7, 2018
Bud Light Orange? I just threw up in my mouth a bit.

— Captain's Log (@howe007) April 3, 2018
Both beers will be brewed with real orange and lime peels though, so points for authenticity, right? 
The refreshed Bud Light Lime is out nationwide now and should be available indefinitely. Bud Light Orange, on the other hand, will only be available from April through September. But big booze brands have a pretty strong tendency for bringing back products that do well, don't they? 
Are you down with this Bud Light Orange? Or are you just going to stick with your Bud Light Strawberita cocktails like the one below? Let us know, people!  
https://www.youtube.com/embed/vX_ntpY6Aqg
See recipe. 
Images: Bud Light