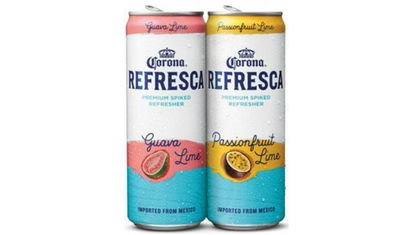 Corona Launches Spiked 'Refresca' Drinks Aimed at Women
It's time to get down with the Refrescas, people!!! What the heck does that mean? Well, technically refresca is a verb in Spanish that means "to refresh" (depending on how it's used), but in the context of Corona's new line of spiked seltzer drinks, it means there's going to be a bunch of bubbly, flavored, cocktail-inspired beverages on the market aimed at women. 
AdAge picked up Corona's new line of Refresca drinks, which will stand as Constellation Brands' (Corona's parent company) foray into the "alternative beverage alcohol" segment, which includes low-ABV drinks like flavored malt beverages, ciders, and hard seltzers. For reference, think Smirnoff Ice or Mike's Hard Lemonade. 
Corona Adding New Refresca Premium Spiked Refresher https://t.co/P2oWdEWazf @corona @coronaextrausa pic.twitter.com/ow3K7B2GDC

— mybeer buzz (@mybeerbuzz) November 5, 2017
And much like so(oooooo) many of the other recent marketing efforts by alcohol companies targeting women —including the introduction of Jane Walker, Coke's first-ever boozy soda, and a host of various rosé products — the Refrescas will be going after the XX crowd. In this case, women between the ages of 25 and 29. (Sorry 30-year-old women, guess you didn't make the cut.) 
The two initial flavors that will launch the Refresca line will be guava lime and passionfruit lime, and based on the category the Refrescas will fall into, a breezy 4-7% ABV should be expected.
In terms of when you'll actually be able to get your hands on one of these fruity bad boys, that's hard to say, as no release date has been given. But it seems like people (especially you women between the ages of 25 and 29!) shouldn't hold their breath, as the drinks will be launched in small, limited markets before going national. 
But if you really can't wait at all for some delicious and fruity Corona goodness, check out the drinks below! 
https://www.youtube.com/embed/JXIxVQ5B0uo
See recipe.
https://www.youtube.com/embed/h2FWnmNrdO8
See recipe.
Images: Constellation Brands 
GIFS: via Giphy