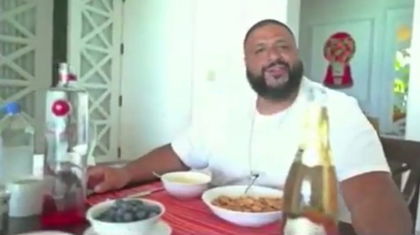 DJ Khaled Catches Heat for Posting Snap of CÎROC-Covered Cereal
DJ Khaled got himself into a little hot water — hot milk? — recently when he posted a Snap of him pouring CÎROC Red Berry and Belaire Gold over his Cinnamon Toast Crunch cereal. Why? Apparently it's against Federal Trade Commission regulations to post these kinds of videos without explicitly disclosing any ties that one may have with the brands being endorsed.
https://www.youtube.com/embed/3g7rXCNSjQA
Page Six picked up on Khaled's snap controversy, which has come about thanks to the independent watchdog Truth in Advertising (TINA). TINA has been watching Khaled's social media accounts like a damn hawk for a while now, and they've even amassed an archive consisting of a bunch of posts, tweets, and videos that the producer and mogul has made endorsing various booze brands.
Basically, it seems that there could be issues with Khaled posting his alcohol endorsements — even gross ones like champagne-and-vodka cereal — on various social media sites and apps not only because he's not consistently stating that he has a vested interest in them, but also because a good chunk of his followers, at least on Snapchat, are probably younger than 21.
A lot of the accusations by TINA seem to be fairly murky, however, as it's unclear to what extent Khaled is actually involved with the alcohol brands he's endoring. For example, TINA notes that in one of Khaled's Instagram posts, he said that he was proud to announce his partnership with D'Usse cognac. But in response to TINA's warning letter about the post to D'Usse's parent company, Bacardi, the liquor giant said that Khaled has never had "an agreement with Mr. Khaled to promote the D'Usse brand."
Furthermore, there are multiple layers of regulations that Khaled needs to deal with in oder to endorse alcohol brands on social media, not only federal law. There are the advertising policies outlined by the social media platforms themselves, as well as regulations put into place by the alcohol industry to avoid advertising to minors.
It's unclear what the next steps are for TINA or the FTC, but one thing is for sure: Khaled may have to give up some of his alcohol endorsements, but he'll never, ever, give up his precious Cinnamon Toast Crunch.
What are your thoughts on this intricate legal matter? Are you cool with Khaled advertising booze on his social media accounts? Do you just want to eat some dang Cinnamon Toast Crunch now? Let us know, people!
Images: DJ Khaled via Tom Brown