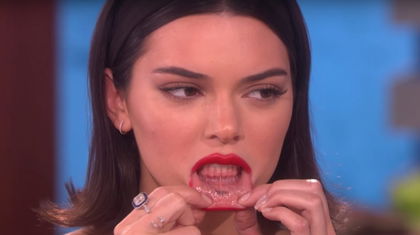 Drunk Kendall Jenner Got a Ridiculous Lip Tattoo
Meow. That's the word that fashion model and Jenner/Kardashian clan member Kendall Jenner had inked on the inside of her lip when she was tipsy, and now any dentist she'll ever go to will know she... likes cats?
https://www.youtube.com/embed/L9069X7nKcY
KJ (can we call her that?) was recently on The Ellen DeGeneres Show, and like Jennifer Lawrence, she had a somewhat juicy drunk story to tell with her tipsified tattoo experience. When DeGeneres asked why Jenner got the tattoo, she simply replied "I was drunk," and then added that "I was not thinking clearly." Which is honestly a supremely great way to justify any bodily alterations you make at the age of 22.
Although apparently the tattoo does have some hidden meaning, something Jenner says "I don't want said... like, a boyfriend's name or something." But why would she be ashamed of meow? That word is amazing.
Perhaps the best part of the whole deal, however, is the fact that Jenner's interior lip tattoo has evidently inspired a bunch of Twitter folk to get one too. Although Miley Cyrus, Lil Wayne, and Ke$ha also all have them, so this band wagon already has plenty of people on it.
if kendall jenner has a lip tattoo so can i

— stevie (@steviegolding1) March 15, 2018
if kendall jenner can have a lip tattoo i'm bringing mine back #gucci

— viv :) (@vivianbjork) March 16, 2018
Ohhh all of the sudden lips tattoos are cool now because Kendall Jenner has one -_____-

— auntie renee (@fckYArenee) March 16, 2018
Anyway, it doesn't matter because the tattoo will fade in the next few years thanks to the fact that the inside of the lip displays rapid regeneration of its mucosal cells. Meow now, but not forever, Miss Jenner.
What's a great drunk tattoo story from your life? We have to know what kind of weird sh*t is tattooed on and in your bodies, people!
Images: YouTube / TheEllenShow
GIFS: Via Giphy