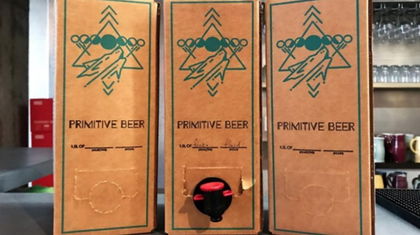 First There Was Boxed Wine, Now There's Boxed Beer!
Get ready to play slap the bag with some beer because a small start-up brewery in Colorado is launching a new lambic brew and it's going to come in boxes, just like boxed wine. Whether or not this will kick off a new boxed beer trend, we don't know, but the one thing we do know for sure is we'd definitely like to try sucking on a beer bladder at least once in our lives. 
The boxed beer, which comes via Westword, is the first product of a very small brewery aptly named Primitive Beer. And when we say "very small," we mean there's basically just two people in the operation: Brandon and Lisa Boldt, a couple that works together full time at another brewery (Odd13 Brewing) and is handling the boxed-beer project on the side. 
The Boldts told Westword that they believe they're the first company in the U.S. to sell beer-in-a-box, but that may not be exactly true. These $20 1.5-gallon boxed beers were launched back in 2009, although they utilized third-party beer for their products. So the Boldts may have a fair point if they're talking about a brewery producing its own boxed beer. 
In terms of the actual alcohol inside of the bag inside of the box, it's a lambic beer, which is a type of beer brewed in Belgium that's non-carbonated and has dry, vinous, and cidery flavors usually accompanied by a sour aftertaste. Yes, you read that right: A non-carbonated beer that tastes like a blend between wine, cider, and something sour. Oh, and this beer is also going to be aged in wooden casks for anywhere from nine months to three years. Seriously, this sounds very intriguing. 
If you want to grab some of this flat beer-in-a-box, it sounds like your only option right now is to go to Primitive Beer's blending facility and taproom in Longmont, CO, where the beer will be on tap and sold in its unique boxed form two days a month. If you need a plane ticket to get to Colorado to try this beer, some of the cost will be made up for by the fact that it'll be slightly cheaper than normal beers — around $18 for a pitcher, and $25 for a 51-ounce bag-in-a-box. 
Have any out-of-the-box thoughts on this boxed beer? Would you try making either of the beer cocktails below with it? We need to know what you think, people! 
https://www.youtube.com/embed/ZLeEMjKmLOE
See recipe. 
https://www.youtube.com/embed/QEVsxYEt0Hs
See recipe. 
Images: Primitive Beer 
GIFS: Giphy