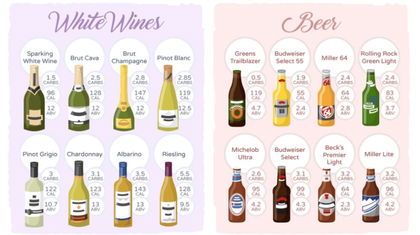 For the Keto Freaks: Chart of Carb Counts for All Types of Booze
The ketogenic diet is one of the most popular diets around right now — because it freakin' works, although is life without pizza really worth living? — so if you're on it and you need to figure out what booze types you can and cannot drink, this infographic from ruled.me is perfect for you. 

The chart was posted to the r/ketorecipes subreddit by user OrangePack, and while we really dig the hard work put into the chart by ruled.me, there was definitely a lot of bickering going on in the post's comments section regarding whether or not these stats are accurate. For example, user smijes says that "This post is completely wrong in regards to carb counts for wine," and that "science and technical data prove the actual carb count is generally much less than 1g per glass..." 
We did a little bit of sleuthing to compare the complaints from the users with the data provided by ruled.me — also we did that whole hard liquor vs. beer and wine post that has some talk of carbs in it — and found that ruled.me is accurate at least according to what we could find. So maybe take these figures with a grain of tequila salt and do your own research, but we'd say you can trust this chart as your guide to keto-friendly drinking. Still can't have bread though! (Oh no, we made ourselves sad...) 
Are any of you all on the keto diet? 'Cause the edible shot glasses below would probably work for you if you are — and don't complain about the chocolate, you need to live a little keto people! 
https://www.youtube.com/embed/q6QuoiSFDhY
See recipe. 
https://www.youtube.com/embed/fzVVliGhu7o
See recipe. 
Images: ruled.me
GIFS: via Giphy