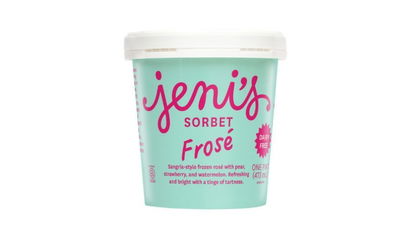 Frosé Is Rosé Sorbet and Your New Dessert Bae
The rosé trend continues and it continues hard, now heading right into dessert! Yes, people, everybody's favorite pink wine is finally being infused into ice cream with Jeni's Splendid Ice Creams new frosé flavor, and all we can say about that, is yeah, we're down with more booze-infused ice creams.  
The frosé, which comes via Simplemost, is another notch in rosé's popularity belt (yeah, we'll say that's a thing, why not?) as the pink wine fuses itself to everything from seltzers to ciders to vodka.
Frosé Sorbet: Simple, bright, refreshing. https://t.co/a5ud8K4Jyr pic.twitter.com/QwkEbT5z9z

— Jeni's Ice Creams (@jenisicecreams) March 28, 2018
By the way, we have no idea why the f—ck rosé is blowing up right now, but we'll get on the train; red and white wines have been resting on their laurels for too damn long anyway. 
This frosé also looks pretty damn tasty, with Jeni's Ice Cream noting that it's a "Simple, bright, refreshing..." treat using rosé sourced from Peregrine Ranch in Sonoma Valley, which is apparently "filled with notes of bright strawberry, subtle blackberry jam, and hints of lemon zest." 
In regards to whether or not you can actually get tipsy off this little chilled treat, the answer to that (sadly) is a resounding no. But Jeni's does note that the frosé pairs well with sparkling wine, more rosé, or even tequila. Which kind of makes us wonder if we can make some frosé tequila bath bombs... Keep the dream alive, people! Keep the dream alive! 
Listen I got this Frosé sorbet, and it taste exactly like Frosé and like I can't finish it bc I feel like I'm drinking and yeah I have a problem.

— Lily Zavala (@LilyBelenZavala) March 28, 2018
Jenis has Frosé sorbet!?!?!? What am I doing with my life!?!?

— CareBear (@LoveAlyse23) March 22, 2018
Jenis has "frosé" sorbet ... yes plz

— Sea (@chelsea_m04) March 10, 2018
Are you down with this frosé rosé sorbet? Would you plop a scoop of it into a tequila or rosé cocktail like one of the ones below? Let us know! 
https://www.youtube.com/embed/U-CCoEOLUpk
See recipe. 
https://www.youtube.com/embed/NMA6iSQ8iiw
See recipe. 
Images: Jeni's Splendid Ice Creams