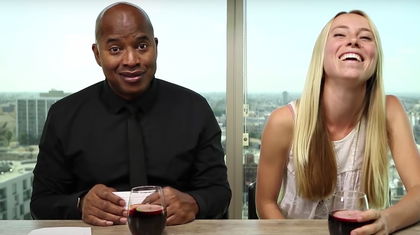 Which alcohols do I drink if I don't want to get fat?
When people think of Tipsy Bartender, they usually think of phenomenally healthy drinks that are basically sugar free and full of nutritious supplements. Or, you know, maybe something like this
Apple CÎROC Candy Bowl
. But even though we may not have the most abundant selection of healthy, boozy drinks right now in the Tipsy recipe library, we do have this in-depth interview with clinical nutritionist Autumn Bates. Bates, who has
her own awesome channel
on YouTube focused on all of the science behind nutrition, stopped by Tipsy HQ to let us know what boozy drinks we can enjoy without worrying about developing any kind of beer belly. And sadly, it turns out that
beer
can and does result in beer bellies. But moderation is key, and we're sure Bates would be cool with you having one of these pitchers of
Summer Beer
from time to time. (Maybe after running a half-marathon or doing some hot yoga for six hours though.) Really though, the health tips Bates gives in this interview are invaluable for anybody who's looking to have a good time without waking up in the morning with the realization that they went 5,000 calories over their allotted budget. During the interview, Bates talks about
the Mediterranean diet
, the importance of
red wine
in people's diets, the wrong and right way to approach intermittent fasting, the benefits of keto, OMAD (one meal a day) fasting, why eating with people is always better, and even how to moderate the insulin levels in your body. So if you want to keep in shape, but also keep it tipsy, take 20 minutes out of your day and check out this interview between Skyy John and Autumn Bates. You can also just listen to this in the background while you do whatever you do at work, 'cause we know a lot of you
roll
like that. ('Cause we do too.) And make sure to tell us what you think of Autumn Bates and all of her diet tips in the comments!