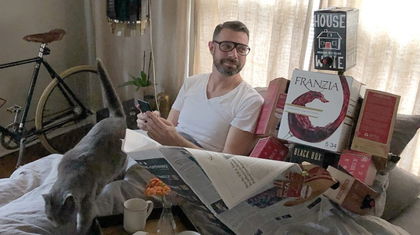 Hero Makes Perfect Husband out of Boxed Wine
Here's a great way to get over your ex: Build a new one out of wine boxes so you can get tipsy off its "blood" and never worry about it (her? him?) leaving you! It sounds like a crazy idea — because it is — but for writer and artist
Michael James Schneider
based in Portland, OR, building a husband out of wine boxes was the perfect way to mend his broken heart. (And recycle like a champ.)
i do not have a boyfriend so i made one out of boxes of wine pic.twitter.com/1r6QKtUbvz

— BLCKSMTH (@BLCKSMTHdesign) February 26, 2018
Schneider posted pictures of his vino-hubby to various social media platforms, and quickly earned a ton of praise from people who would apparently be totally cool wedding a bunch of stale, wine-scented cardboard. (We imagine it would be a lot like marrying Keith Richards.)
                                                via Giphy 
In
an interview with VICE
, Schneider said that after his boyfriend dumped him in 2015, he began to self-medicate with wine.
A lot of wine
. This left him with a ton of wine boxes, especially Franzia wine boxes, which he decided to use as the building blocks of Franz, his new Franken-wine husband.
We're registered at BevMo! And thank you

— BLCKSMTH (@BLCKSMTHdesign) February 26, 2018
In terms of where Schneider's at now regarding his personal life, he told VICE that he's over the breakup, as well as the self-medicating with wine — which is great 'cause now he can get back to just drinking it. Plus Schneider's mad creativity displayed by the invention of Franz, as well his dope-ass haircut and sense of humor, has also earned him a few romantic partnership proposals from people (both male and female) online.
Someone date this man before I try to convince him to switch teams https://t.co/Z6Xd3mVizJ

— jessie (finder of bug rabbit holes) frazelle (@jessfraz) February 27, 2018
I'll be your boyfriend

— Daniel Zennon (@dzennon) February 26, 2018
How bad do you want a BWB for yourself? Or would you prefer a TBG — Tequila Bottle Girlfriend? Or maybe you just want you and your flesh-and-blood partner to share one of the tasty-ass wine cocktails listed below: https://www.youtube.com/embed/jjvESFuc2ig
See recipe.
https://www.youtube.com/embed/iJR_kzi7098
See recipe.
Images: @BLCKSMTHdesign