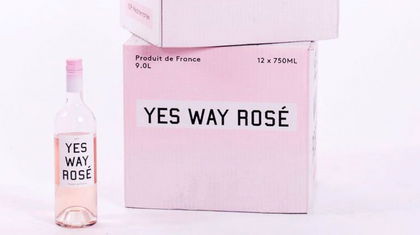 Hey Babé! Yes Way Rosé Is Now at Target!
Prepare yourselves, pink drink-loving people!!! Yes Way Rosé, the rosé that blossomed from the minds of two rosé-infatuated females, is now available at Target for $13 a bottle.
If you're unfamiliar with Yes Way Rosé, it's a brand that was started by Erica Blumenthal and Nikki Huganir, long-time friends who suddenly found themselves falling madly in love with the light, crisp wine.
Meet Yes Way Rosé: The French rosé you can actually say! The wine will be introduced at most Target stores on March 4th. #yeswayrosé #yeswaytargét #YesWayRoséatTarget https://t.co/LV7VueBRvt pic.twitter.com/BDPJIFE6uO

— Yes Way Rosé (@YesWayRose) February 22, 2018
Although Blumenthal and Huganir's love of rosé first took on the form of a popular Instagram accounted dedicated to the distinctly pink and deliciously dry wine, they eventually found themselves actually producing the stuff in 2017.
Yes Way Rosé is produced from a blend of classic Mediterranean grapes, found in the south of France, and the flavor is described as dry and complex, with an assortment of fruity notes including hints of strawberry, citrus, and white peach.
The Pair of rosé-prenuers told A Bullseye View that what sets Yes Way apart from other brands is the fact that "it's a qualité rosé that doesn't take itself too seriouslé." The company has even launched a line of sexy/goofy "cheeké" underwear. 
Jump shake your booté! Yes Way Undiés, our new very cheeké holiday gift, are available now on https://t.co/upUjr4ExbB. pic.twitter.com/n43KUTCmjI

— Yes Way Rosé (@YesWayRose) December 4, 2017
To enjoy Yes Way Rosé the best way possible, according to Blumenthal and Huganir, drink it chilled, and try pairing it with cheeses, pizzas, heavy meals — holla at a T-bone and rosé for reals — or even with super spicy foods like currie dishes.
Yes Way Rosé is in 1,100 Targets across the U.S. right now, so if you're desperate for some of that "summer water," you can literally go out and grab it immediately. We in the Tipsy office aren't totally crazé for rosé quite yet, so we may or may not pick up a bottle — although we do appreciate this on-point marketing.
If you do decide to pick up a bottle, try out the below Frozé cocktail recipe below, which we guarantee delivers the boozy brain freezé of a lifetime.
https://www.youtube.com/embed/cHJEfqG-F-Y
See recipe.
Images: Yes Way Rosé