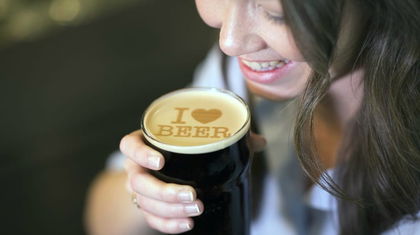 Holy Crap! You Can Now Print Pics on Your Beer Foam!
Here's an awesome party trick we can't wait to try: Printing pictures on your beer head that actually look like little high-quality images. Seriously, who doesn't want to see their head on some head?
This magical beer branding, which comes via NYMag, is possible thanks to San Francisco-based beverage-tech company Ripples and its latest "Beer Ripples" machine.
Cheers to the #Weekend! Made with our #BeerRipples! #StPatricksDay #StPatricksDay2018 #Beer #TGIF #technology pic.twitter.com/PRur8jVuDj

— Ripples (@drinkripples) March 16, 2018
If you haven't heard of Ripples, you've probably at least seen the latte art the company's original creation, the Ripple Maker, can produce. 
Do some good today! 📸: @debrakamin on Instagram#DrinkRipples #coffeelovers #Jerusalem https://t.co/GVJgrR9SLp pic.twitter.com/3hK70GqN6q

— Ripples (@drinkripples) March 16, 2018
But while the latte art was cool, this new way of imprinting pictures on beer foam — or other types of cocktail foam, for that matter — is downright amazing. Not because the technology has changed all that much, but because you can now chug a beer or sip a cocktail with the face of somebody you love (or hate) on it. 
What does your #StPatricksDay #weekend #cocktail look like? 📸: @TwoRuba #DrinkRipples https://t.co/yHQ8FWN1Gm pic.twitter.com/jh9NlgYecM

— Ripples (@drinkripples) March 17, 2018
In terms of how Beer Ripples prints on your beer, it's actually pretty crazy. The machine is using a malt-based ink — which Ripples promises won't affect the taste of your beer — to squirt out the designated design onto the beer foam. Which kind of makes it a 3D printer that uses malt ink instead of other, more standard materials. 
Happy #StPatricksDay @Techlicious Cheers from #drinkripples and #ripplesbeerhttps://t.co/nTBkBExiws pic.twitter.com/aYzllYqCTa

— Ripples (@drinkripples) March 17, 2018
If you want to have one of these in your house though, prepare to be disappointed 'cause this beer printer costs — wait for it — $3,000. So you can either have this, or a sh*tload of beer. Or you can ask Jay-Z if he'll purchase one for you, since he doesn't mind spending tons of money on booze. 
In terms of how practical this machine is, obviously the price tag puts it way out of reach of most people (again, except for the Jay-Z types). But who knows? It could make for a cool gimmick for a bar to use if they want their spot to trend on social media. 
Yes that's a print on a pint! 🍻 Today we have officially launched #RipplesBeer🎉#DrinkRipples #StPatricksDay https://t.co/mxOQQVGQXP pic.twitter.com/qk012Hay18

— Ripples (@drinkripples) March 16, 2018
Are you down with this beer printer? Would you want to try it with one of the foamy drinks below? Print out your thoughts in the comments, people!
https://www.youtube.com/embed/KWM5LgsOyuY
See recipe. 
https://www.youtube.com/embed/TfmbVRa79As
See recipe. 
Images: Ripples