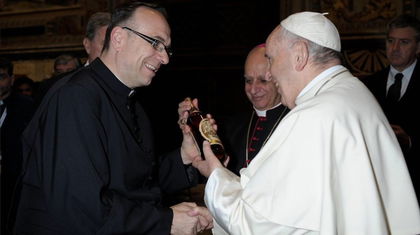 It's Official: The Pope Digs Whiskey!
Big booze news out of the Vatican, people: The 266th and current Pope, Pope Francis — a.k.a. Pope Frank — is apparently very down with whiskey. When a Kentucky priest recently gifted His Holiness a $2,500 bottle of Bourbon, the Pope not only recognized the bottle as Bourbon, but also noted that it was "very good bourbon." Also, look at that Pope smile as he holds that bottle of whiskey; you know he's probably going to have at least a couple of sips (neat probably) later on. 
Pope Francis receiving his 23 yr old Pappy Van Winkle Bourbon as we shared our love of My Ole Kentucky Home! pic.twitter.com/mWereczKs9

— Father Jim Sichko (@JimSichko) April 10, 2018
Thrillist picked up on the news of the Pope being gifted a crazy expensive bottle of Pappy Van Winkle's whiskey, which was brought to him by Father Jim Sichko from Lexington, KY. And it makes perfect sense that Father Sichko would bring the Pope some Bourbon, as Kentucky really knows how to make a dang good whiskey. 
If you're wondering if the Pope can actually drink alcohol at all, it seems that booze is totally kosher for the Holy Father, as there are no dietary restrictions on what he can eat or drink. In fact — this is big news if you didn't know — according to VinePair, the Pope even declared wine a necessity! A necessity, people! He is quoted as saying that "Water is needed to live, but wine expresses the abundance of the banquet and joy of the celebration," and that "Wine is necessary for the celebration." 
It's hard for us to describe how much we love this Pope. 
Father Sichko also delivered plenty of good, quality whiskey to the Pope's guards, noting in tweet that he brought "All the PAPPY's," including some Four Roses, and some Woodford Reserve. 
All the PAPPYS, 4 ROSES and WOODFORD RESERVE made it to give to Pope Francis and his security detail! Thanks Be to God! pic.twitter.com/u7AJqpIl7B

— Father Jim Sichko (@JimSichko) April 6, 2018
As a side note, Father Sichko, like Pope Francis, seems like a pretty cool dude. Check out this guy's sense of humor: 
"Today while at my Doctor's Office at St. Joe's, my Doctor asked me if anyone in my family suffers from insanity. I said, 'No, we all seem to enjoy it.'" He just stared at me......LOL

— Father Jim Sichko (@JimSichko) April 19, 2018
Are you psyched to learn that the Pope is down with some whiskey? Do you agree with him that wine is necessary for celebration? If so, check out the wine cocktails below! 
https://www.youtube.com/embed/fuVsNg5M_Sk
See recipe. 
https://www.youtube.com/embed/7vDawQTBekw
See recipe. 
Featured image: Twitter / Father Jim Sichko
GIFS: Giphy