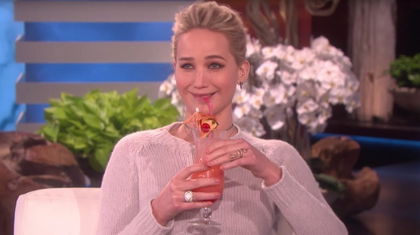 Jennifer Lawrence Has a Drunken Alter Ego Named 'Gail' Who Loves Rum
We all know that booze brings out different sides of different people, and that those sides tend to be a kind of "box of chocolates" situation in that you never know what you're going to get. In the case of superstar Jennifer Lawrence and rum, apparently you get a masculine adrenaline junkie named Gail.
https://www.youtube.com/embed/mctn16hLzhg
Lawrence told Ellen DeGeneres on the comedian's talk show that she generally only drinks rum on vacation, but when she does, Gail comes out, and it seems like Lawrence may have limited control over what the "tortoise gambler" does. We don't know what a tortoise gambler is either, but we bet she likes to munch pumpkin.
Speaking of munching on things, apparently Gail is into some pretty haute cuisine, a.k.a. worms that have been pulled out of conch shells, which themselves have just been pulled out of the ocean.
Gail is also pretty much fearless, as Lawrence told DeGeneres — over some real rum cocktails — that while on the same vacation as the conch worm-eating she also jumped into some shark-infested waters just on a lark. Honestly her stank eye could probably scare some Great Whites away, though.
Jennifer Lawrence is killing it with her glamorous look on the 'Red sparrow' red carpet!🤩💛

For more such updates stay tuned with us at https://t.co/7vohDos3b1 #JenniferLawrence #RedSparrow #redcarpet #updates #gossips #news #hollywood #celebrities #bollywood #filmywhisky pic.twitter.com/TRqrhSjwAx — filmy whisky (@filmywhisky) February 27, 2018
And if you think JLaw is just frontin' about her love for rum, she also talked about Gail on The Late Show with Stephen Colbert, where she threw back quite a few shots of the delicious, distilled alcoholic beverage made from sugarcane.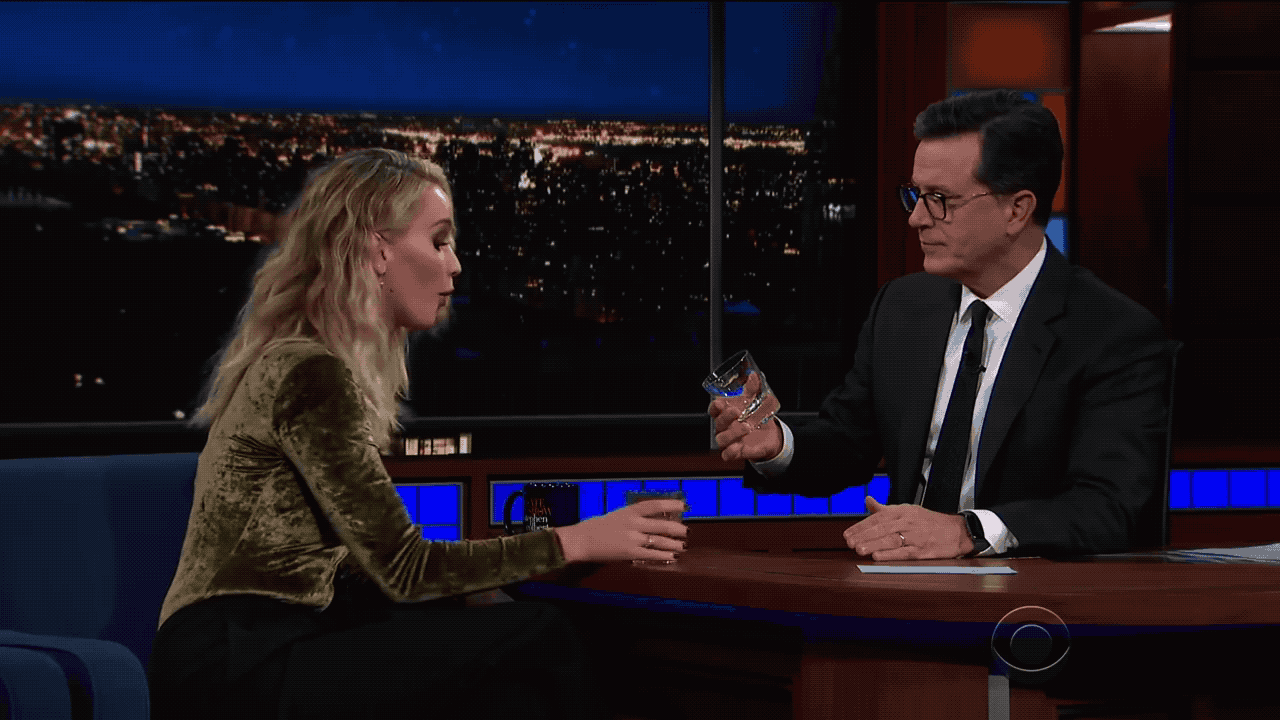 Also, as a random side note, this lady's shoes seem to come off a lot. Then again, when Kevin Hart gets wasted he likes to take his socks off, apparently. What we're saying is alcohol brings out different sides of people and also makes them want to free their feet.
If you want to get down like J-Licious with some rum, try out this stunning beauty of a banana drink:
https://www.youtube.com/embed/4fpFaC5oYEA
See recipe.
Images: YouTube / TheEllenShow, The Late Show with Stephen Colbert