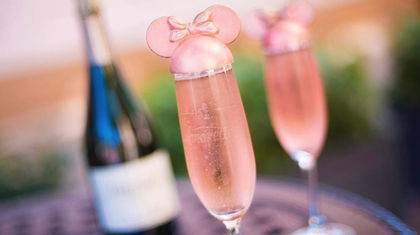 Millennial Pink Disney Cocktails with An Edible Surprise
Disney's jumping on the millennial-pink-booze bandwagon, and even though the mouse is kind of late to the game, it has shown up in style with a nice little flute of pink cuvée topped off with some pink Mickey Mouse ears — ears you can eat 'cause they're made of chocolate.
Pop Sugar picked up on the new pink drink, which is called The Millennial Pink Celebration Toast and is already available at Disney World. So for all you beautiful folks down in Florida, if you're going to visit the happiest place on Earth, why not make it a little happier with some champagne. Which probably costs a ton of money, but how else are you supposed to drink booze at a place like Disney World? Oh wait.
If you need to know exactly where to go in the park to find this boozy flute, head on over to Amorette's Patisserie in Disney Springs. We have no idea what a patisserie is by the way, but judging by the sound of the word, it's like a bakery that's been hosed down with some Disney magic.
There's also a bunch of other pink stuff that you can eat instead of drink, which is less exciting 'cause it doesn't get you tipsy, but the food stuffs look delicious anyway.
And who cares if you drop an extra $5 or $10 on a cookie just 'cause it's pink and shaped like Mickey Mouse's head? You're not supposed to behave like an adult at Disneyland, especially if you're already cuvée cruising.
Are you digging this Mickey Mouse millennial pink drink, or would you rather save about $100 and make one of the pink cocktails below at home? Let us know, little tipsy Mouseketeers.
https://www.youtube.com/embed/gHFR3z8M3wU
See recipe.
https://www.youtube.com/embed/RmQ82PNLuhI
See recipe.
Images: Disney Springs 
GIFS: Giphy