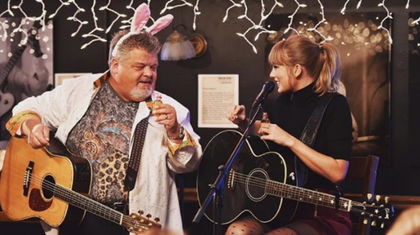 Taylor Swift Doing Shots of Fireball Makes Us Want Fireball
Fans of Taylor Swift, we have some news that may pique your booze-related interest: Tay Swifty Swizzle is apparently down with doing shots of Fireball, the famous (infamous?) cinnamon-flavored whisky. And while yeah, it's not that big of a deal, doesn't this news kind of put you in the mood to do some shots of the cinnamon whisky? Or at least listen to "Gorgeous"? 
The Daily Meal picked up on the phenom singer-songwriter's Fireball adventures, which were documented on her personal Instagram page (above). The SHOTS FIRE(BALLED) — yes, there were multiple shots — were downed at the end of last month at the Bluebird Café in Nashville, TN, where Swift was first discovered as an eighth-grader. 
Taylor Swift drinking fireball. RT if u agree pic.twitter.com/Q3ElUi5iFb

— truk (@taylegendd) April 1, 2018
The other guy in the picture who's not Taylor Swift (it can be hard to spot the difference; he's on the viewer's left and is a very large man in bunny ears), is Craig Wiseman, who's a legendary songwriter in his own right, having written lyrics for tons of huge names like Dolly Parton and Faith Hill. Below are a couple of videos that were posted to twitter of the pair playing together. 
Here's a bit of the duo playing an acoustic version of "Shake It Off." 
Taylor Swift singing Shake It Off, one of her biggest hits at the place where she got discovered is the greatest thing I've seen today! 😭😭 pic.twitter.com/5P6sZJYG8w

— nico (@taylorsnewrep) April 1, 2018
And here are the Fireball-fans playing "Better Man." 
Taylor Swift was just spotted performing "Better Man" at the Blue Bird Cafe where she got discovered! 💕💕 pic.twitter.com/9NG9YUyNxy

— taylor swift news (@TSNewsPA) April 1, 2018
If watching these clips really did put you in the mood for some Fireball cocktails, check out the ones below. Watch out for who sees you drinking them though, 'cause it may affect your... Reputation. 
https://www.youtube.com/embed/Q_4bK98eymM
See recipe. 
https://www.youtube.com/embed/JNBliNxMdcg
See recipe. 
https://www.youtube.com/embed/I_8aW1c64Ho
See recipe. 
Images: Instagram / Taylor Swift