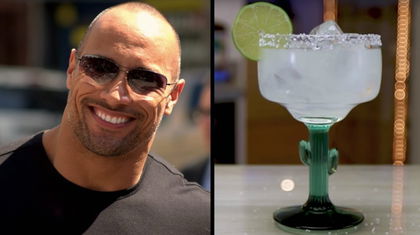 The Rock's Launching a Tequila Brand Named 'Mana'
Looking to order a little tequila on the rocks? How about tequila made by THE ROCK?! Yeah boys and girls, Dwayne Johnson is jumping on the celebrity-booze bandwagon — already occupied by Ryan Reynolds, 50 Cent, Matthew McConaughey, the Backstreet Boys, and plenty of others — and it seems he's going to be doing it with everybody's favorite agave spirit, which causes regrettable behavior and unforgettable memories. 
Maxim picked up on news of Johnson's new tequila brand, which hasn't officially been announced yet, but is definitely in the works. How do we know? TMZ has reported that Johnson's company has trademarked the name "Mana" and wants to "slap it on tequila bottles." Also, in a recent Instagram post, Johnson mentioned that he was "bringing his own tequila" when he sat with Mohammed bin Salaman, the crown prince of Saudi Arabia. 
Plus, it's super obvious that Johnson loves tequila. Especially tequila shots. 
Every girl's crazy bout a sharp dressed man. (who becomes wonderfully inappropriate after his 6th shot of tequila;). Thank ya GQ. @ilariaurbinati #BestDressed https://t.co/F3lUi1BOEL

— Dwayne Johnson (@TheRock) April 17, 2018
Thx dude appreciate you loving RAMPAGE. I'm dope as hell in person, but slightly complicated when I go past 7 shots of tequila. 😂 🥃 https://t.co/DORkhfxZ4o

— Dwayne Johnson (@TheRock) April 16, 2018
Seriously, this dude talks about drinking tequila all the time. 
Thank ya man!! Cheering kids is indeed what it's all about. It's also about therapy and tequila but that's for another tweet lol. Glad you had a blast. RAMPAGE https://t.co/uAeSjsGFUX

— Dwayne Johnson (@TheRock) April 16, 2018
Due to the nascent stage of development on the megastar's tequila, it's impossible to say how much it's going to cost, when it's going to be released, or what it's exact flavor profile will be. But what we do know for sure is that Johnson should team up with billionaire and super-genius Elon Musk, who's also launching a tequila brand. Seriously, imagine Musk's brains paired with The Rock's star power — it would be the hottest liquor on the planet, hands down. 
Have any comments on Dwayne Johnson getting into the liquor game? If you get your hands on a bottle of "Mana" would you use it in either of the tequila cocktails below? Let us smell what you're cooking in the comments, folks! 
https://www.youtube.com/embed/2Vgo_LB2LYU
See recipe. 
https://www.youtube.com/embed/nhCs2UwM-5Q
See recipe. 
Featured images: Flickr / David Shankbone, Tipsy Bartender
GIFS: Giphy