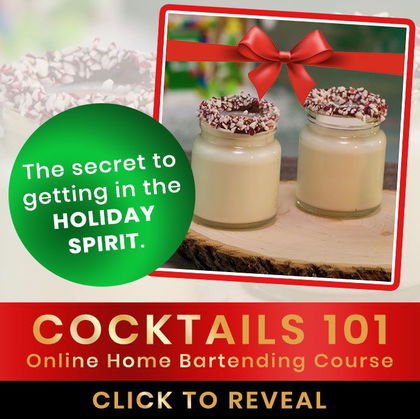 The Ultimate Last Minute Gift!
Everyone's hunting for the perfect last-minute gift idea - something guaranteed to arrive before Christmas that won't break the bank.
Tipsy Bartender makes it easy to give a standout gift with
Cocktails 101
, a spectacular virtual bartending course built to take your drink-making skills to the next level!
In just two hours, the world's most popular bartender will give your giftee all the tools they need to make crazy-good cocktails in the new year and beyond! By the end of the course, they'll be creating their own signature cocktails and raising a glass to you for sending such a fantastic gift.

Perfect for Everyone on your List
Cocktails 101 isn't just for aspiring bartenders and mixologists, it's the perfect way for anyone to discover a new passion and create delicious drinks while they do it! Chefs, artists, and every other creative type would love to learn how to express themselves through the art of cocktails.
Get Tipsy Together
We have an exclusive 20% discount and
Gift One, Get One
FREE offer for Cocktails 101 that expires at midnight on Christmas Eve, so you can give a rad gift and get one for yourself for free! Discover new drink-making skills and spend quality time together, even if you're miles apart.
>> Click here to unlock our Cocktails 101 holiday sale!
Add a Personal Touch
Our gifting system lets you write a personal note to go along with Cocktails 101, so you can wish your gift recipients happy holidays, a happy new year, or even suggest new drinks for them to try!
Instant Joy
Once you buy the course, you can choose exactly when to send your special someone their key to Cocktails 101, so you can set it and forget it - no wrapping required! It's perfect for Christmas, Hanukkah, and any other holiday on your calendar (even if you wait 'til the night before - we don't judge!)
>> But don't wait too long, or you'll miss out on our 20% off + Give One, Get One FREE holiday offer!
Click here to get Cocktails 101 now! 
May your glasses be full, and may your holidays be merry and bright! Stay Tipsy!