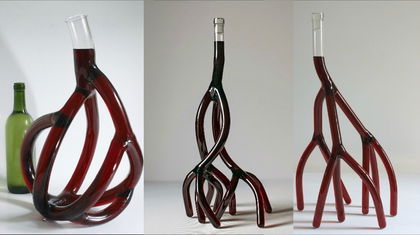 These Wine Carafes Are Weird and Sexy
Everybody loves really wowing the sh*t out of their normal vino squad with potent gossip, bringing word of the Backstreet Boys starting a new tequila brand or something like that. But if you bust out with one of these crazy-ass wine carafes by French designer Etienne Meneau, you won't just wow every one of your friends at the next meetup, you'll blow their freaking brains out with amazement. 
The crazy carafes, which come via Craziest Gadgets, are ridiculously cool ways of storing the wine you're about to serve, and yeah, we want one for our house too. Only problem is, these things are expensive. Way expensive. No wait, f—cking astronomically expensive, as you're looking at a price tag for any one of these of around $2,500 euros, or $3,100.
Yeah, so, unfortunately, dreams of whipping one of these bad boys out to show off at your next clink-n-drink are probably not going to come true. 
Although you can still show the cool pictures. 
If you do happen to have $3,000 to spend on a wine carafe, first of all, can we get some investment advice from you, and second of all, prepare yourself for some extremely delicate pouring. 
Don't get totally down about the price though, 'cause there are other makers that produce equally weird-looking decanters for much cheaper. We definitely do not endorse this brand, however, we thought it'd be good to compare what you can get for way less money. 
Are you inspired by these nuts carafes, or would you never want them 'cause you know they couldn't fit some delicious wine sangrias like the ones below? Talk about it in the comments! 
https://www.youtube.com/embed/NrJ5YcL47Sc
See recipe. 
https://www.youtube.com/embed/2-AhTisjXPo
See recipe. 
Images: Etienne Meneau 2018