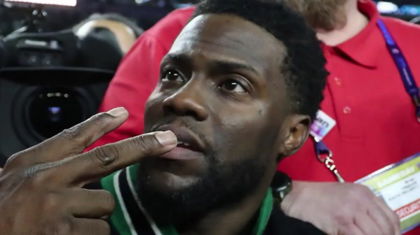 Tipsy Kevin Hart Crashing Eagles Celebration Was Hilarious
After the Eagles managed to beat out the New England Patriots to become the Super Bowl LII champions, just about everybody in The City of Brotherly Love showed their "love" for their team and city by basically thrashing and smashing everything. But nobody celebrated quite as shamelessly or hilariously as tipsy Kevin Hart, who attempted to crash the stage on the field as the Eagles celebrated. Check out the intoxicated 5'4" comedian doing his best to get past security:
Security denied Kevin Hart from walking on stage with #eagles like he was on line for rollercoaster and didn't pass height requirement 😂pic.twitter.com/XfeCB5dnbj

— IB (@incarceratedbob) February 5, 2018
Hart, who was born in Philadelphia, was enormously excited for the prospect of an Eagles win in the run-up to the Super Bowl, appearing in numerous videos celebrating the team's accomplishments and "Cinderella story" with quarterback Nick Foles, who stepped up after first-stringer Carson Wentz was sidelined.
"Fly Eagles Fly!"

-@KevinHart4real pic.twitter.com/e8dAy6Rrxv — First Take (@FirstTake) February 2, 2018
After the game was over and the Eagles had flown, Kevin Hart was "on cloud nine" — i.e. crazy tipsy — and even managed to drop an F-bomb.
Kevin Hart dropped an F-bomb on NFL Network 😂😂 pic.twitter.com/NCL1mljXlG

— Sports Illustrated (@SInow) February 5, 2018
In his car ride home (or to an afterparty probably), Hart had to acknowledge that maybe he had gotten a little too spirited in his celebratory shenanigans. Here is is talking about what his tipsy thinking was in the moment:
Even though Hart really had no right to be up on stage with the Eagles, we still salute him for celebrating with his city and his team, and bringing the comedy even while half in the bag and without any socks on. Fly Eagles fly! And drink fans drink! But do it responsibly. (Looking at you, people flipping over cars and stuff.) What do you think about the way Kevin Hart celebrated the Eagles win? Should security have let him up on stage? Let us know your thoughts in the comments!
Feature Image: Breakfast Club Power 105.1 FM