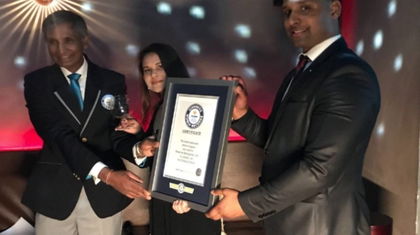 World's Most Expensive Shot Sells for $14,000!
OK folks, time to see what the super-rich are up to again, and this time around it's shots shots shots edition 'cause a woman in England spent — wait for it — around $14,250 on a shot of cognac. (So. Many. Car. Payments.) And if that sounds like the most money spent on a shot of cognac ever, that's because it apparently was according to the Guinness Book of World Records, who was there to verify the ridiculous purchase. 
Tonight #HYDE has made history... we have sold the worlds 🌍 most expensive shot of cognac 🥃 at £10,014 pic.twitter.com/FFHoplWA7H

— Hyde Kensington (@HydeKensington) March 21, 2018
United Press International picked up on the purchase, which was made by Ranjeeta Dutt McGroarty, the founder and CEO of India's Trinity Natural Gas, at the super-posh HYDE Kensington nightclub in London. McGroarty is the woman holding the glass of cognac in the above image, looking smug as a bug in a rug, which is understandable if you have $14,250 to throw at a single shot of booze. 
Seriously, we think this is even crazier than Jay-Z's $91,000 bar tab, 'cause at least that was spread out over an entire night, and he was spending that money on his own brand of champagne. 
As far as why this — 1.4 ounce — serving of cognac cost such an insane amount of cheddar, that, of course, has to do with its history. This particular cognac was taken from a bottle of Rome de Bellegarde, of which only 67 bottles exist.
Shot of cognac sells in London bar for £10k https://t.co/PgcPIFTt0N pic.twitter.com/cWyia9Iqv9

— The Odd Tube (@TheOddTube) March 22, 2018
The bottles also have a storied past, as they were uncovered at the Jean Fillioux cognac house in Cognac, France in 2004, and are thought to be the first-ever blend created by founder Jean Fillioux in 1894. 
With regards to whether or not this is the most expensive shot of alcohol bar none in the world versus simply the most expensive shot of cognac, we believe the former statement is true considering the fact that this $10,000 shot of cognac was billed as "the world's most expensive shot" back in 2016, and this one outdoes that price by a significant $4,250.
#TBT... to #yesterday when this lady bought the 🌍 worlds most expensive shot of #cognac 🥃 at £10,014.For the full story click here https://t.co/HcUclpBx9r pic.twitter.com/iJLurbmHRY

— Hyde Kensington (@HydeKensington) March 22, 2018
And finally, how does a person feel after spending that kind of money on 1.4 ounces of booze? Well, McGroarty reportedly said after she took the shot that "Life is about trying new things and pushing boundaries." In response, we'd like to tell the CEO of the Indian natural gas producer that sending random people bottles of Rome de Bellegarde would be a cool new thing to try. Just sayin'. 
What do you think about dropping $14,250 on a single shot? Would you do it if you had the money, or are you sticking with Hennessy cocktails like the ones below no matter how loaded you get? Let us know! 
https://www.youtube.com/embed/P4NEyjNvvg4
See recipe. 
https://www.youtube.com/embed/Z0A3gpkXjI8
See recipe. 
Images: HYDE Kensington