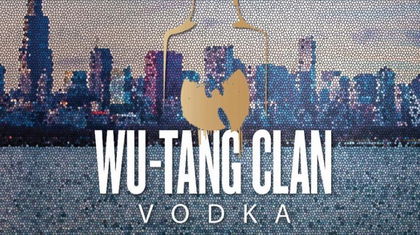 Wu-Tang's Launching a Vodka to Celebrate Its 25th Anniversary
A lot of musicians and movie stars are piling into the liquor game, like Ryan Reynolds with his gin and the Backstreet Boys with their tequila. But they really need to move aside because Wu-Tang Clan is here with its own brand of vodka and it Ain't Nuthin' ta F'Wit. We assume, we haven't tried it.
The Spirits Business picked up on news of Wu-Tang's new vodka, which will be added to its existing batch of liqueurs that come in various flavors including, but not limited to, Strawberry Lime, Butterscotch, and of course, C.R.E.A.M.
In the Instagram post announcing the vodka, Wu Tang Premium Liqueurs noted that "Due to popular demand and to celebrate Wu Tang Clan's 25th Anniversary" the group's releasing a "super-premium vodka" at a "super premium" price. 
Unfortunately, it sounds like the vodka will be available exclusively in Australia for now, which is the same case for the group's liqueurs. But maybe if the group heard about enough support from people in the U.S. they'd put it out in their home country — or at least in New York, right? 
While we're kind of bummed to hear the vodka will only be available in Australia for now, we imagine it'll be priced very reasonably — the liqueurs are only about $11.50. So maybe have some Aussie friends send you a bottle if that's legal? We don't know. What is legal though are the tasty vodka cocktails below that you can enjoy with some Wu-Tang vodka if you can get your hands on it. 
https://www.youtube.com/embed/l_hKhiYf8f4
See recipe. 
https://www.youtube.com/embed/mX6hA30nIqE
See recipe. 
Images: Wu-Tang Clan Liqueur