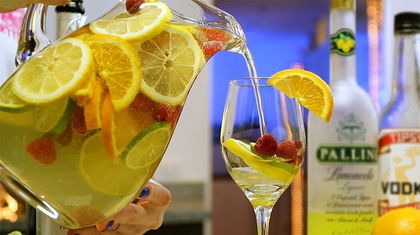 10 Sangrias for Super Bowl Sunday
Football fans! We are fast approaching Super Bowl LII and we can't think of a better way to class up your big game bashes than with a bunch of sangria punch options that are affordable, delicious, and best of all, super boozy. So whether you're hoping to see the Eagles or the Patriots put on a clinic, here are ten fresh 'n' fruity sangrias that will help you score some tipsy touchdowns. (And yes, these drinks will have you doing some crazy end zone dances.)
1. Fishbowl Sangria 
First up we have the Fishbowl Sangria, which has a big bouquet of flavors thanks to a bunch of different fruits, and gummy candies. And if that sounds too sweet for an NFL party, trust us, this beastly bowl still brings it as hard as Gronk. https://www.youtube.com/embed/y6-IRE6vIKI See
recipe
.
2. Caramel Apple Sangria 
The Caramel Apple Sangria is the perfect pitcher of booze for people who want a cocktail with some throwback taste and some added crunch. Plus you get to celebrate players cracking their bones by cracking some apples! https://www.youtube.com/embed/WCYkXKXWqxg See
recipe
.
3. Frozen Fruit Sangria 
Go ahead and roll your eyes at the Frozen Fruit Sangria, but real fans of being properly tipsified know that you need to add in some fruit chunks for bite-sized breaks from all the big game booze — they're like little taste commercials for your mouth. https://www.youtube.com/embed/JMp-tDr-ncE See
recipe
.
4. Mimosa Sangria 
Because your Super Bowl party is bound to happen smack dab in the middle of daytime if you're on the West Coast, we have to include this Mimosa Sangria. With tons of champagne, it's also great as a celebration drink for when your team wins. https://www.youtube.com/embed/_Bj4t1FmKUc See
recipe
.
5. Piña Colada Sangria 
You want a piña colada
and
some sangria this weekend? Bang, we have you bandwagon booze fans covered with this Piña Colada Sangria. It's the perfect half and half mix for mixing up flavors during the halftime show. https://www.youtube.com/embed/_j-O4XT8s84 See
recipe
.
6. Strawberry Shortcake Sangria 
The Strawberry Shortcake Sangria is another sweet-sounding cocktail that packs a potent punch. Just like Trey Flowers, you have to ignore the name and focus on those brutal booze hits to the body. (Side note: You don't need to be that brutal, please drink responsibly.) https://www.youtube.com/embed/0fqpb9DZujQ See
recipe
.
7. Blue Love Sangria 
The Blue Love Sangria may not be quite as pretty as the other sangria punches on this list, but with some bold flavor and plenty of starfruit garnishes, it can still be a star player in your Super Bowl snack lineup. https://www.youtube.com/embed/fuVsNg5M_Sk See
recipe
.
8. Tequila Champagne Sangria 
This Tequila Champagne Sangria is like a little trick play: people think they're coming in for some nice little sips of champagne sangria and then
pow!
, hit them with the tequila right up the middle of the palate. https://www.youtube.com/embed/NMA6iSQ8iiw See
recipe
.
9. Prosecco Sangria 
Up the sexiness levels a bit with the Prosecco Sangria, because your Super Bowl drinks really should look just as good as Tom Brady's face. Plus it has those Italian vibes going for all of you Amendola fans. https://www.youtube.com/embed/8NrVelpGheA See
recipe
.
10. Classic Sangria 
Finally we have the Classic Sangria, which, like the Super Bowl itself, is going to be a popular tradition forever. And it doesn't even cause as much brain damage! https://www.youtube.com/embed/eQTI8bJCV6Y See
recipe
. What are your thoughts on these Super Bowl sangrias? Are you down with these punches or would you prefer some (Hail) Blood Mary cocktails? Let us know in the comments!