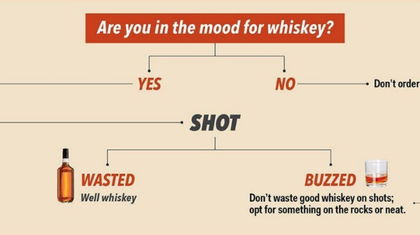 10 Simple Whiskey Tips That'll Make You an Expert
Whiskey is super popular right now, and although we're not sure why — best guess is Ron Swanson — it still seems like a big part of drinking culture that's worth knowing. So to brush up on your whiskey knowledge, here are 10 simple tips that'll help you understand how to order whiskey, how to drink whiskey, and most importantly, how to pick the right whiskey for you. 
1. The bare-bones breakdown of how to order whiskey. 
[Infographic] How to Order Whiskey Like a Boss pic.twitter.com/HBtaqgEghN

— Distilld Community (@Distilld) September 30, 2014
2. The essential points of what whiskey is. (These steps vary in time and method depending on whiskey type.) 
On #InternationalBeerDay, let's explore how #whisky is made & how it's related to it's cousin, #beer, with this nifty infographic. #PaulJohn pic.twitter.com/2t3S79Qos7

— Paul John Whisky (@PaulJohnWhisky) August 4, 2017
3. Simple definition of the terms you see on whiskey bottles. 
from a schema by @Son_Of_Whisky our #infographic. The five types of Scotch #whisky #slaintè pic.twitter.com/AM0cPP9s8B

— Whisky Italy (@WhiskyItaly) April 10, 2016
4. More in-depth breakdown of whiskey terms, especially Bourbon. 
A simple 101 guide to #bourbon #scotch #irish & #canadian #whiskey [Infographic] http://t.co/li3pJhX2Eg pic.twitter.com/5u3fE4Vrzn

— Distillery Daily (@DistilleryDaily) May 11, 2013
5. Some cultural do's and don'ts of being a whiskey connoisseur. (Ignore the part about this being a guide for "discerning gentlemen" — everybody discerns, damn it!) 
The DO's and DONT's of being a Whisky connoisseur#SSHOMME #gentleman #infographic pic.twitter.com/1wEdfWR8gC

— SS HOMME Menswear (@SSHOMME) September 8, 2014
6. Amount of water you should add to release a whiskey's flavor. (Aim for 35-50% ABV.)   
Whisky dilution guide. Warning: pretty nerdy. #scotch #whisky #whiskey #malt #singlemalt #Scotland #cigars pic.twitter.com/fGdtScuNFZ

— Scarlet Richardson (@cookingscarlet) August 23, 2017
7. Some basic whiskey cocktails you can make. 
How Do You Take Your Whiskey? [infographic] - Daily Infographic http://t.co/FNI5ZyY3iE pic.twitter.com/yj59fucWxD

— beep_R_A.K. (@beep_roadrunner) December 22, 2014
8. Some less-basic whiskey cocktails you can make. 
Palms Casio Resort have created a #whisky infographic and frankly brilliant http://t.co/aeAWdZghEC #sinatra pic.twitter.com/CVcygYxoLd

— World Whisky Day (@WorldWhiskyDay) September 17, 2015
9. Which brands make which types of whiskies. 
10. If you're in the U.S., this is where the whiskey distilleries are.
US Whiskey Map (#infographic) http://t.co/448lCyDGZV pic.twitter.com/yqHIqxz1OM

— ladolcevitacooking (@ladolcevitacook) April 15, 2014
So do you feel like a connoisseur now, or do you still need to majorly brush up on your whiskey knowledge? Either way, enjoy the whiskey cocktails below with your new refined palate! 
https://www.youtube.com/embed/mST_o5gJISs
See recipe. 
https://www.youtube.com/embed/nKE7L4vjbtY
See recipe. 
Featured image: Distilld Community