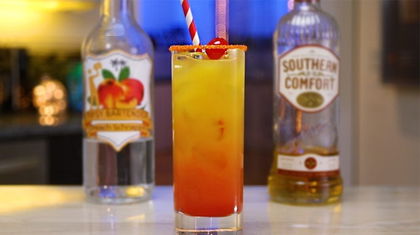 5 State Drinks for a Taste of The Union
President Trump just gave the
annual State of the Union Address
to the American people, and even though it earned mixed reviews, regardless of your political party, when it comes down to it, everybody just likes to party, right? So in honor of
the State of the Union
, and making cocktails great again, here we present to you five state drinks that'll have citizens from sea to shining sea staying nice and tipsy.
1. Georgia Peach 
In celebration of the last of the thirteen original colonies, and "Atlanta" on FX — that show's amazing — we have here the gorgeous, sunset-colored Georgia Peach. Just like Georgia's people, this is a very hospitable and sexy drink. https://www.youtube.com/embed/yZXNoLM624o See
recipe
.
2. Mississippi Mud-Tini 
Because you can never really get enough of that smooth Southern comfort (sometimes literally), the Mississippi Mud-Tini has to be on this Taste of the Union list. Try it with a Mississippi mud pie if you really want to have a chocolaty mess in your mouth. https://www.youtube.com/embed/pBwappX5nqY See
recipe
.
3. Pineapple Blue Hawaiian
Now we pop all the way over to Hawaii to get a taste of the latest state to join the Union with the Pineapple Blue Hawaiian. This sloshy blue beauty is served in a pineapple, and is guaranteed to have you celebrating everybody's favorite gorgeous isles in style. https://www.youtube.com/embed/PKKtYJTG-go See
recipe
.
4. Washington Apple 
We head back to the mainland with this Washington Apple, which honors the fact that Washington is the number one producer of apples in the country — that's actually true. It's also so simple and classy the recipe will remain evergreen just like the state it's named after. https://www.youtube.com/embed/C1GTJOc5KOg See
recipe
.
5. Tennessee Coffee Milkshake 
Finally we jump back to the South with the Tennessee Coffee Milkshake, which is a tasty treat that'll get you smashed-ville in Nashville. Add this cocktail to your next backyard bash because it's not really a proper Southern BBQ unless Tennessee whiskey is involved. https://www.youtube.com/embed/TbAui22uRNs See
recipe
. What are your thoughts on these Taste of the Union state drinks? Do you wish you had one of these while watching the actual State of the Union Address? Let us know in the comments!