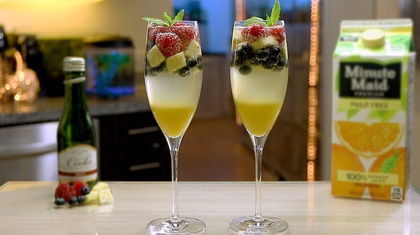 7 Sexy Mimosas for a Wild Weekend Brunch
Hallelujah hallelujah! It's finally time to say sayonara to another workweek and hello to a delicious weekend full of sunny, fun-filled Saturdays and Sundays — folks who'll be stuck in some snow, we love you too, we're not trying to be cold, OK? But for the rest of us who will be cruisin' and carousin' out in the sunshine, we have an especially sexy lineup of mimosa variations you can enjoy with your bottomless besties. So in honor of the brazen brunch crowd, here are seven sexy-ass mimosas that will have you forgetting all about that dirty little M-word.
1. Caramel Apple Mimosa 
Take a big, crisp bite into brunch-time tipsiness with this Caramel Apple Mimosa, which adds a sweet and sour cider aspect to the classic drink. Here we exchange the orange juice for apple cider, and add in some caramel vodka on top of the champagne. Rim the flute with caramel, a mix of cinnamon and sugar, and an apple slice for an extra little treat for your tongue. https://www.youtube.com/embed/_PFyRbtcesY See
recipe
.
2. Popsicle Mimosa 
Looking to have more of a chill boozy brunch this weekend? Try these Popsicle Mimosas while celebrating everybody's favorite midday meal. The key element that distinguishes this version of the Mimosa is a popsicle made of triple sec and orange juice. Stick that frozen slice of sunshine in your glass full of champagne and orange juice, along with some diced strawberries, and you have yourself the perfect popsicle for the breakfast-lunch portmanteau. https://www.youtube.com/embed/TcFMn6eZyck See recipe.
3. Apple Kale Mimosa  
Here's the perfect drink for the health freaks who don't mind unleashing their weekend heathen. This Apple Kale Mimosa minuses the orange juice and in its stead adds muddled kale, apple slices, and vodka. The result is a green monster that will have onlookers experiencing mad jealousy over your unique liquored-veggie vibes. https://www.youtube.com/embed/4ulzfsAMGeY See
recipe
.
4. Mimosa Sangria 
Sangria or Mimosa? That's basically a brunch-time Sophie's choice, and if it's freaking you out, here we have a magic bullet — or rather a magic bowl full of Mimosa Sangria. This beautiful drink calls for Cointreau on top of the usual champagne and orange juice, plus plenty of sliced oranges, strawberries, and pineapples. This drink gets bonus points for being a combo packed with plenty of vitamin C for when you're out enjoying that vitamin D. https://www.youtube.com/embed/_Bj4t1FmKUc See
recipe
.
5. Fruit Salad Mimosa 
Mix things up with this Fruit Salad Mimosa and get in the mood to tutti frutti shake that booty. This very simple, and maybe even kind of healthy, take on the classic Mimosa adds in blueberries, raspberries, and pineapple chunks. Garnish this bad boy with a bit of mint 'cause it smells great and always looks luscious. https://www.youtube.com/embed/nP6o0p4XzDQ See
recipe
.
6. Pomegranate Mimosa 
Red alert! We have a Pomegranate Mimosa here packed full of everybody's favorite crunchy, squirting seeds. This rouge-colored take on the Mimosa uses pomegranate juice instead of orange juice, plus a little palmful of pomegranate seeds. A splash of grenadine — which is based on the French word for pomegranate, educate yourself! — is added in for some extra sweetness. https://www.youtube.com/embed/KBRSpqQNlcs See
recipe
.
7. The Classic Mimosa 
Make new mimosas, but keep the old, 'cause one is fruity and the other is... well, it's fruity too, but it's also gold. Yes, finally, we present to you the Classic Mimosa. This is the original drink in its most classic and simple form. And while we love all the other variations, we have to give it up for the OG brunch cocktail. Just champagne and orange juice, because less is more. Unless you're talking about ordering more mimosas, in which case bottomless beats both. https://www.youtube.com/embed/DxVVLFSpRts See
recipe
. What do you think about these mimosa mix-ups? Which one are you going to try this Saturday or Sunday with your brunch crew? Hit up that comments section with your thoughts!