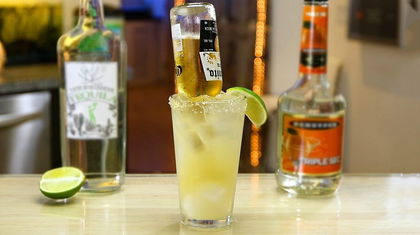 9 Tequila Cocktails Perfect for National Burrito Day
It's National Burrito Day, and that means it's time for... tequila cocktails!!!!! Yes we need that many exclamation points, don't hate. Below are nine (nueve!) of our favorite tequila cocktails, with just enough variation so that you can find the drink that perfectly matches your own preferred little donkey — that's the literal translation of burrito, in case you didn't know. Also, burritos are 12,000 years old. Again, in case you didn't know. 
1. La Bomba 
Don't be fooled: La Bomba is not your classic margarita. This delicious twist on the classic has a serious pineapple tang to it, and it's perfect for pairing with carnitas — probably, we're guessing, you try it. 
https://www.youtube.com/embed/YUxnZTGEx0s
See recipe.
2. Frozen Pink Lemonade Margarita 
The Frozen Pink Lemonade Margarita is a little lush slush that'll make you blush. Also, try pairing this with a spicy burrito to help cool things off after you've set your mouth on fire. 
https://www.youtube.com/embed/WYD50rkpF0A
See recipe. 
3. Paloma 
A classic cocktail needs to be on this list, and we think there's no better IBA-approved tequila cocktail than the Paloma. This one is for all of you truly fancy burrito eaters out there who use a fork and knife to cut your log. 
https://www.youtube.com/embed/qResWuXfuaQ
See recipe. 
4. Margarita Pitcher 
Doing up a burrito party with friends? Then you need this super tasty Margarita Pitcher, people! Don't know what a burrito party is? We. Don't. Either. But let's get that trend started. 
https://www.youtube.com/embed/zOhfp42MhoU
See recipe. 
5. Baja Tiki 
The Baja Tiki is perfect for people who're looking to slip away to a sublime little beach in Cabo San Lucas, but are still stuck in the office on a dang Thursday. You can have it with your lunch burrito, don't let people control you! 
https://www.youtube.com/embed/fsYK6n74j-A
See recipe. 
6. Watermelon Margarita Shots
Shots with a burrito? Yes, that's a thing. Especially if you're talking about these Watermelon Margarita Shots that taste delicious and won't fill you up. Because you better eat that whole burrito, you're on a mission. 
https://www.youtube.com/embed/3jL8u9HUGUY
See recipe. 
7. Coronarita 
Oh, you want beer with your tequila and burrito? Yeah, we have you covered with the Coronarita. And no, you don't have to dunk the bottle upside-down into the glass, that's just for people who are brave and can handle living on the edge....
https://www.youtube.com/embed/Chbwjwx9e5U
See recipe. 
8. Tequilime Crush 
Here's an extra refreshing play on the classic margarita. It's the Tequilime Crush, and with pineapple chunks and juice, and a splash of club soda, it's perfect for helping you to digest a Chipotle-sized beef missile. 
https://www.youtube.com/embed/BtkZOahUlfo
See recipe. 
9. Raspberry Lime Margarita 
Finally we have the Raspberry Lime Margarita, which is probably the fanciest, fruitiest tequila cocktail on this list. The raspberry flavor is perfect for all you veggie-burrito lovers out there, 'cause you all like fruit too, right? All we're saying is that no animals were harmed in the making of this drink. 
https://www.youtube.com/embed/YoVuQNefZu4
See recipe. 
People! We need to know what kind of burrito you're having on this holiest of food-log-related holidays. Tell us which burrito and which one of these tequila cocktails you'd want to pair in the comments below! 
GIFS: Giphy