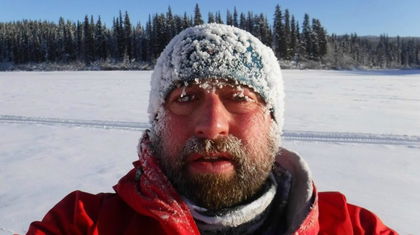 Dude Donates Amputated Toes to Make Grossest Cocktail Ever
Are you ready to barf? Or at least dry-heave a little and never look at feet or whiskey cocktails the same way ever again? Then check out this story about a British adventurer who had his toes amputated thanks to frostbite contracted during the Yukon Arctic Ultra race in February, and is now donating them to help make the infamous "Sourtoe Cocktail" at the Downtown Hotel in Yukon, Canada. You know, this Sourtoe Cocktail— 
The story, which comes via CBC News, sounds incredibly strange and disgusting (because it is), but this crazy Brit, Nick Griffiths, donating his amputated toes to help make the Sourtoe Cocktail actually makes a lot of sense. The Sourtoe cocktail has been served at the Downtown Hotel since 1973, and a surprisingly large number of people are totally down with drinking it. Even though it looks like this: 
And what better way to replenish the ingredients for the crazy, gag-inducing drink than by taking some toes that have already been amputated, and are just chillin' in a bedside cabinet? And we mean that literally. Griffiths told CBC that his surgeon put the toes into little jars, and that "they're in my bedside cabinet at the moment." 
In terms of what the actual Sourtoe Cocktail consists of, it's basically a whiskey shot with A FUCKING HUMAN TOE IN IT. Although the toe is mummified, and apparently it's plenty safe to drink. Not just the toe-tainted whiskey either; the literal toe can be swallowed without issue — a dude did it on purpose in 2013 and even voluntarily paid the $500 fine for doing so. So nobody better steal this dude's dead, mummified toes! 
'Can we have them?' Amputee donates frozen digits to Yukon bar for 'Sourtoe Cocktail' https://t.co/SbNloEkAZk pic.twitter.com/LJOxvpDUst

— CBC North (@CBCNorth) April 6, 2018
If you want to drink the Sourtoe Cocktail, you'll probably be able to pretty soon. Griffiths told CBC that he's already working on a way to get them to the Downtown Hotel, and it can't take that long to mummify toes, right? Anyway, which one of these barf faces did you make when you thought about drinking this cocktail? 
This one? 
This one? 
Or this one? 
Also, here are some whiskey cocktails that don't have toes in them for all the freaks who don't like dead human flesh touching their lips. 
https://www.youtube.com/embed/nKE7L4vjbtY
See recipe. 
https://www.youtube.com/embed/IDdqwDTNP-M
See recipe. 
Images: twitter / @CBC NL
GIFS: Giphy