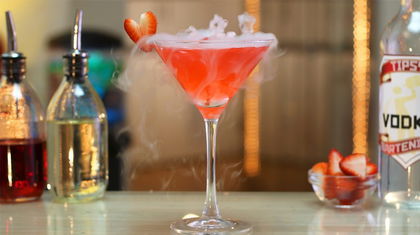 Valentine's Drinks That'll Wow Your Partner
It's Valentine's Day, which means it's time to scramble real fast to figure out how you're going to show your partner that you love them. Keeping in mind that it's crunch time, and the fact that roses can't get you tipsy (unless you're talking about
these ones
), here's a list of Valentine's Day cocktails you can make to delight your significant other. They're cheap, easy, and pretty, and if those don't sound like the makings of a good Valentine's, then we don't want to be your valentine. Just kidding, we still do.
Red Hot Valentine's Shots 
Tell your valentine that your love is as strong as it was on day one with these Red Hot Valentine's Shots. These crimson shooters are full of passion, and more importantly, Fireball cinnamon whiskey. Plus they glitter thanks to pearl dust, and wear their candy hearts on their rims 'cause they ain't shy. https://www.youtube.com/embed/mOiFHluYnM0 See
recipe
.
Love Potion 
Is your partner smoking hot? Instead of just telling them, show them you think that's the case with this Love Potion cocktail. It oozes smoke thanks to a dry ice garnish, and it's so sexy it'll even make up for the fact that you forgot to make the dinner reservations. https://www.youtube.com/embed/IZuSrdSsrbY See
recipe
.
Valentine's French 75
Here's the classiest of the Valentine's cocktails on this list. It's the Valentine's French 75, and if your partner loves the idea of sharing a glass of 
champaña
under the stars, this is the drink to make. https://www.youtube.com/embed/EGqISxEh-VM See
recipe
.
Red Hot Slush 
We know your partner is on fire with desire for you, so cool things down a bit with the Red Hot Slush. It's a drink with the intensity of a lustful lover, but the coolness of a long-term companion. https://www.youtube.com/embed/waAx3No5WrY See
recipe
.
Drunk in Love 
When that love hits you, it hits you
hard
. Kind of like this Drunk in Love cocktail, which is basically a big bowl of beautiful red booze you and your partner can share while you're falling ever deeper into love, and also whatever show you two are marathoning on Netflix. https://www.youtube.com/embed/gE4Dj1ogHXQ See
recipe
.
Pillow Talk 
What better way to end our beautiful little fling with Valentine's cocktails than with some pillow talk? This vodka cocktail is gentle, (strawberry) heart-filled, and perfect for warming up your insides while your partner warms up your outsides. https://www.youtube.com/embed/PL-g2xZK6iQ See
recipe
. What are your plans for Valentine's Day? Would you dare share any of these cocktails with that new love in your life? Let us know in the comments!