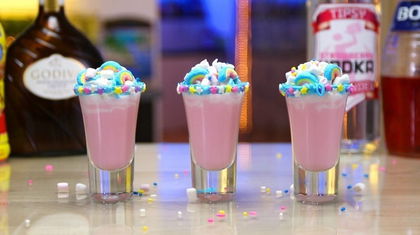 10 Mythical-Themed Cocktails for National Unicorn Day!
We have no idea why, but apparently it's National Unicorn Day. And what better way to get your legendary creature celebration on than with some mythological cocktails and shots? From dragons to fairies to mermaids, we promise you'll find your spirit mythical-creature drink in the list below. Or maybe not, but we're talking about unicorns and shit, so let us get away with some hyperbole. 
1. Unicorn Shots 
National Unicorn Day, meet Unicorn Shots. We can tell you all about the strawberry flavored liqueur, vodka, and milk in these little pink shooters, but just look at them: This is what magical horses would shoot, right? 
https://www.youtube.com/embed/D6vVVrWaKog
See recipe. 
2. Green Peach Princess 
You down with GPP? 'Cause this Green Peach Princess is a candy and Kool Aid cocktail that's guaranteed to give your own little fairytale a happy ending — unless you drink too many, in which case your ending will involve a hangover. 
https://www.youtube.com/embed/DMbyNB0puqE
See recipe. 
3. Double Headed Dragon 
It's hard to imagine a drink that could possibly deserve the name "Double Headed Dragon," but we think this brilliant orange and red dual-drop flaming bomb shot most definitely earns the moniker. 
https://www.youtube.com/embed/jhyQivOuRhs
See recipe. 
4. Dragon's Breath Shot
Speaking of dragons, here are the Dragon's Breath Shots. They're not quite as imposing as the Double Headed Dragon, but seeing as how they contain a decent amount of absinthe, these little shooters can still scorch your mouth like Drogon — or some dank-ass Listerine.
https://www.youtube.com/embed/baSVbgJpxwg
See recipe. 
5. Witches' Brew
How could we possibly have a list of mythological cocktails without Witches' Brew? The damn drink smokes (thanks to some dry ice), and we think you could probably cast some spells using this cocktail too. We cast a charm of... Blue Curaçao!
https://www.youtube.com/embed/ooLnK3kEE5s
See recipe. 
6. Pixy Dust Margarita 
For people who want to feel the tipsy but still keep things light and breezy, we have the Pixy Dust Margarita. You can drink these all night and still keep a nice buzz going while you're buzzing about, tinkling your sprinkle dust on everybody. 
https://www.youtube.com/embed/1ybgeiey37U
See recipe. 
7. Mermaid Punch 
No, Mermaid Punch isn't a move you can do in the Disney edition of Mortal Kombat. It is, in fact, a delicious green bowl of booze that'll have you swimming through magical sea stories in your head. (If magical sea stories persist after 24 hours, please go see a wizard.)  
https://www.youtube.com/embed/HIb4YxJPmN4
See recipe. 
8. Harry Potter's Butter Beer 
OK, Harry Potter isn't exactly a classic mythological story (yet!), but Harry Potter's Butter Beer is just too damn delicious not to have on this list. Side note: Hagrid probably couldn't down one of these as fast as Tom Brady could. 
https://www.youtube.com/embed/QnTa6xlvAI4
See recipe. 
9. Loch Ness Monster 
The Loch Ness Monster shots are just like the "real" Loch Ness Monster: They're a little bit ugly, but they're a great attraction for people and they'll probably leave you with some crazy post-party pictures that nobody will believe.
https://www.youtube.com/embed/2Sg092SOJxo
See recipe. 
10. Green Fairy #2
Finally we have the Green Fairy #2 shot. What happened to the Green Fairy #1, you're wondering? It asked too many damn questions, that's what happened to it!
https://www.youtube.com/embed/3zgCQK2fXVE
See recipe. 
Do any one of these mythical, magical cocktails resonate with your fairytale side? Did we miss any critical creatures that you wanted to see on the list? Let us know, you little tipsy nymphs and trolls! 
GIFS: Giphy