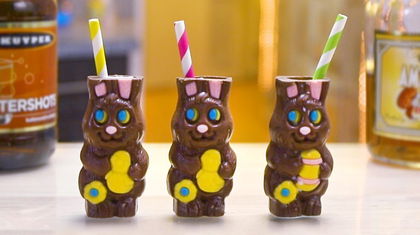 5 Easter Cocktails 'Cause Adults Like Candy Treats Too, Damn It!
Easter's here and that means it's time to watch a bunch of kids run around looking for Easter eggs and probably cry a little or whatever kids do. But you know what? Kids aren't the only ones who enjoy treats — adults do too, and we like ours with booze in them. So here's five Easter cocktails you can enjoy while you're trying not to look bored at whatever gathering you're at this weekend. 
1. Boozy Easter Bunnies
Boozy Easter Bunnies have everything you want: chocolate, Irish cream, amaretto, Butterscotch Schnapps, bunnies with the tops of the heads sawed off... What? They're chocolate, biting their heads off is better? 
https://www.youtube.com/embed/842Mi-xjdH0
See recipe. 
2. Easter Egg Cocktail 
If sawing the head off a chocolate bunny does disturb you, then try this Easter Egg Cocktail. It's made with White Creme de Cacao, Jelly Beans, and most critically, blue curaçao. Try dipping your Easter eggs in blue curaçao; no idea what will happen if you do, but try it. 
https://www.youtube.com/embed/pNxGHSdyoxA
See recipe. 
3. Easter Egg Shots 
If you really want to turn your Easter cocktails into a little project, try these Easter Egg Shots. They're super tasty with Peppermint Schnapps, white chocolate liqueur, and cinnamon, and for some reason we lit that cinnamon on fire. Go ahead and try that, it's fun. 
https://www.youtube.com/embed/I6OPX27s4Pg
See recipe. 
4. Creme Egg Cocktail 
Here we have the truly gorgeous Creme Egg Cocktail. With Vanilla Vodka, White Creme De Cacao, and White Chocolate Liqueur, it tastes just as good as it looks too. 
https://www.youtube.com/embed/x_yw15NN6bo
See recipe. 
5. Creme Egg Shots 
Finally we have these Creme Egg Shots, which are perfect for folks who need to sneak a boozy treat in between all those super "fun" family-oriented Easter activities. (And yes, you have time to layer shots even if you're sneaking them, don't complain about it.) 
https://www.youtube.com/embed/Og6ekVDDgd4
See recipe. 
Are you down with any of these Easter cocktails? Or do you need to bust out with some more potent cocktails to properly enjoy this holiday? Let us know in the comments, folks!